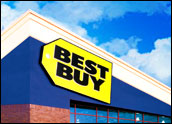 The state of Connecticut is suing electronics retailer Best Buy, saying the company deceived customers by using in-store kiosks linked to an employee-only Web site to suggest that bargains posted on the company's public-facing site were no longer available.
Connecticut Attorney General Richard Blumenthal launched the investigation last month after reports surfaced in a Hartford newspaper that customers going to Best Buy stores to seek bargains advertised online were shown a different Web page on in-store Internet kiosks that had higher prices.
"Best Buy gave consumers the worst deal — a bait-and-switch-plus scheme luring consumers into stores with promised online discounts, only to charge higher in-store prices," Blumenthal said. "Best Buy broke its promise to give the best price — an Internet version of bait-and-switch."
Seeking Refunds
The suit seeks refunds for customers, undisclosed penalties and costs, a ban on the alleged practice and other remedies. Blumenthal gave Best Buy until June 13 to respond.
"Best Buy adamantly denies the Connecticut attorney general's characterization of our in-store kiosks," company spokesperson Susan Busch said. "We intend to vigorously defend ourselves."
Blumenthal's office received about 20 complaints following a story in the Hartford Courant in late March. Most of those consumers told a similar story of visiting Best Buy stores after seeing a computer advertised on BestBuy.com for US$729.99, only to find when they reached the store the best price shown on the Web site in the store was $150 more.
Duped but Unaware?
The attorney general said he suspects more consumers were victims and don't yet know it. "There may be people who are entirely unaware they may have been overcharged," Blumenthal explained.
Since 2005, Blumenthal noted that Best Buy pledged to have its stores match any lower price advertised online, including at its own site.
Best Buy confirmed that employees had access to a second Web site similar in design to the public site but meant to be used for employee training and interaction. The retailer recently added a banner to the kiosk Web page stating that prices on the site reflect those in the local store, but Blumenthal said that does not eliminate the customer confusion.
"Unfortunately, for all the benefits that the kiosks provided to most of our customers, there was a small percentage who did not receive the best price when they should have," Busch said. "Once this issue was brought to our attention, we provided immediate training for our employees to help ensure that all customers received the best price. We are in the process of making changes to eliminate future confusion."
Best Buy must clearly communicate pricing to its customers, Blumenthal argued. "Consumers must recognize instantly and easily that the in-store kiosk is separate and distinct from BestBuy.com. Our action seeks to compel Best Buy to fix its deceptive kiosks, eliminate confusion and fulfill its price match policy."
Getting It Straight
The potential for consumer confusion is growing as more multi-channel retailers increase the sophistication of their various marketing techniques, Forrester Research analyst Carrie Johnson told the E-Commerce Times.
"The way a Web site and a store interact is not consistent across the retail landscape," she said. For instance, some retailers allow online purchases to be picked up in stores with no shipping costs; others do not. Some allow in-store returns of online buys, while others keep their various channels at arms' length from one another.
"It's easy to see how consumers could get confused even when retailers were not attempting to be deceptive," Johnson added.
Investors seemed unfazed by the action, with Best Buy shares down just a fraction of a percent to $46.58 in late morning trading Friday.
Public Image
With the suit limited to Connecticut for now, the risks are minimal for Best Buy, though there could be a dent in its public image if the issues spread to other states. Meanwhile, the retailer is locked in a competitive battle, not only with its direct big-box electronics rival Circuit City, but also with discount retailer Wal-Mart, which has made it clear it wants to stake a bigger claim on the home electronics market.
Best Buy has made some wise moves to prepare for what will likely be rough price competition from Wal-Mart, such as with its purchase of Internet services firm Speakeasy, Gartner analyst Ken Dulaney told the E-Commerce Times.
"If Best Buy can become the go-to place for not only electronics items but the services that go with them, that will give them a niche they can defend without having to get into a suicidal price war," he added.