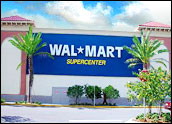 Shifting away, at least temporarily, from its once potent direct-sales model, Dell next month will begin selling desktop personal computers in thousands of Wal-Mart stores across North America.
Starting June 10, two new Dell desktop models will be available for less than US$700 at Wal-Mart, the discount giant said.
The machines will be available in some 3,500 Wal-Mart and Sam's Club locations in the U.S., Canada and Puerto Rico, Wal-Mart announced.
Exclusive Versions
At this time, there are no plans to sell Dell notebooks. Instead, the first PCs made available will be an exclusive version of the Dell Dimension Multimedia desktop, with a second version available later in June. Dell reportedly will ship machines that use relatively lower-cost AMD chips over Intel processors.
Wal-Mart and Dell will evaluate the partnership after the launch to see what additional offerings may be added, Wal-Mart Stores said, noting that the Dell partnership is part of a larger move to enhance its lineup of electronics products and brands. Wal-Mart did not disclose the financial terms or duration of the agreement.
Dell is a "proven electronics brand" that will complement other desktop PCs already sold in Wal-Mart stores, said Gary Severson, senior vice president of home entertainment for Wal-Mart.
Dell cut its teeth on its direct-sales model a decade ago, using the Internet and telephone sales as a way of avoiding the added expense of setting up stores or paying retail partners a cut of the sale price to display and handle merchandise. By shipping directly to consumers from its own manufacturing facilities and distribution centers, Dell cut out costs that then rivals such as Gateway — which owned a massive network of its own stores — had to absorb or pass on to customers.
Jump-Starting Sales
The shift may underscore how desperate Dell is to jump-start sales and gain back ground it has lost to HP over recent quarters. With founder Michael Dell back in the CEO's chair, Dell is undergoing a revamp aimed at making it more competitive once again. The company has invested heavily in customer service improvements and hired outsiders to head up newly configured operating divisions.
Michael Dell has said his company would embrace third-party sales in a way it has not before, seeking to work hand-in-hand with both resellers that service the business community and retailers who sell to consumers. The company has not released details of that change, however.
Dell's Wal-Mart strategy is not without its risks, since the retail giant has a reputation for steep discounts, and a brand image that does not always evoke quality among consumers. Wal-Mart is also famous for using its massive buying power to squeeze price concessions from suppliers, raising the possibility that Dell will be forced to find ways to lower its prices over time.
Dell shares were down more than 1 percent in midday trading Thursday to $25.98.
Join the Crowd
Other PC makers have found Wal-Mart to be a valuable partner, however. PCs from HP are available there and also in the stores of big-box electronics seller Best Buy.
In addition, Dell may be able to tap into markets that it was missing with its direct-sales model. By some counts, nearly 90 percent of Americans visit a Wal-Mart store during the course of a year, including many who may balk at buying a big-ticket item such as a PC without ever seeing or touching it.
More retail partnerships may be ahead for Dell in the future. Wal-Mart may represent a logical first partner to help show the PC maker how the retail world works.
Wal-Mart could also be a wise long-term partner for Dell because of its growing presence in key emerging markets such as Brazil and China — places where the direct-to-consumer model would not allow for significant market penetration.
"The direct model doesn't serve Dell well in the markets where the growth is occurring," American Technology Research analyst Shaw Wu told the E-Commerce Times. "That's a big reason why Dell needed to at least start exploring retail."
Speculation has been rampant about how Dell would approach the retail market. For example, a recent article in BusinessWeek raised the possibility of Dell buying struggling retailer RadioShack; however, there's plenty of room for doubt in that scenario.
A One-Time Promotion?
Not everyone thinks the partnership represents a major strategy shift for Dell. The deal sounds more like a one-time promotion, the type that Wal-Mart often runs around the holidays, Enderle Group Principal Analyst Rob Enderle told the E-Commerce Times.
The Dell machines will be in stores during graduation season, he noted, and another round of similar discounts may appear around back-to-school season.
"This sounds similar to me to what Wal-Mart does regularly with other vendors — go to the OEMs (original equipment manufacturers) and say, 'Sell me a PC at a good price, we'll subsidize it and use to drive traffic into our stores,'" Enderle said. "It works out well for consumers — they get a hell of a deal on a PC, and it works out for the OEM because they're not absorbing the losses of the discount." The retailer, meanwhile, benefits from traffic driven by the rock-bottom price of the PCs.
Still the partnership may mark at least a gradual change in thinking for Dell. "In the past, they weren't willing to bid on these types of deals — they weren't willing to go where HP and others were going. Nowit appears they are," Enderle added.