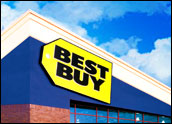 Shares of Best Buy slid by more than 5 percent Tuesday after the electronics retail giant posted lower earnings and moderated its outlook for the rest of the year, citing a less profitable mix of hot-selling products.
Best Buy's profit for its first quarter was US$192 million, or 39 cents per share, 18 percent lower than the $234 million, or 47 cents per share posted in the year-ago quarter.
Revenue rose 14 percent to $7.93 billion compared to $6.96 billion last year. Best Buy beat analyst forecasts on the revenue number but missed consensus estimates for the bottom line by a full 10 cents per share.
Changes in the Product Mix
Same-store sales were up 3 percent, however, ahead of what most analysts had been expecting.
Changes in product mix helped drag down results, Best Buy said, with lower-margin products such as notebook and desktop PCs replacing high-end flat-screen TVs as top-sellers. The purchase of a China-based retailer weighed on its profits, the Minneapolis-based retailer said.
President and COO Brian Dunn acknowledged the quarterly results were weak, but said the company remains positioned to continue as a market leader, thanks to investments made in services to augment its lineup of electronics gear.
"We firmly believe that our investment in solving technology problems for customers is extending our lead over the competition," he said.
Reasons for the Seasons
Best Buy shares were down more than 5 percent in midday trading Tuesday to $45.37.
Even though Best Buy cited more purchases of lower-margin items, the chain may be showing the early signs of weakening consumer spending. Damage from the housing market correction might eventually prompt consumers to slow their discretionary spending on items such as electronics and home entertainment gadgets.
The drop in sales of plasma TVs and other high-end, high-margin items is only temporary, Dunn said. Sales were robust in the previous quarter but fell off after the Super Bowl and college football bowl games.
"We have never been more optimistic about our future growth opportunities," Dunn commented. "Does this mean that people are changing their minds, turning away from technology and entertainment products and solutions? We don't think so. They simply hit the pause button."
Best Buy indicated the rebound won't happen overnight as it lowered its full-year guidance on the profit side to a range of $2.95 to $3.15 per share, below the earlier outlook of $3.10 to $3.25. Best Buy did not change its revenue outlook, which still calls for $39 billion in sales this year.
"Early evidence suggests that consumer spending will be more difficult to predict this year — but it appears to be accelerating in lower-margin categories," said CFO Darren Jackson. "We are confident that flat-panel TVs, gaming and notebook computers will remain very appealing to our customers. Yet the exact mix of sales could have an impact on our gross profit rate in the short-term."
Tough Sledding
The electronics retailing business has proven a tough go for many chains recently, as discounters such as Wal-Mart and Target broaden their offerings to include more top-brand electronics products.
Last week, Tweeter, which had positioned itself to go after high-end sales, filed for bankruptcy protection, and Best Buy's main rival, Circuit City, has been forced to cut its workforce in a bid to stay profitable.
Best Buy, meanwhile, has increased its market share lead over Circuit City even as it managed to keep investors by plowing some of its $4 billion cash reserves into an aggressive stock buyback program.
Best Buy has also tried to improve its customer service capabilities and reputation and has invested in services as well, buying a home networking firm to augment the services it can offer customers.
"Best Buy knows that margins are shrinking and that Wal-Mart is going to make sure that continues," Gartner analyst Ken Dulaney told the E-Commerce Times. "They've turned to services as a way of better addressing the customer needs but also as a way of protecting themselves against commoditization down the road."
Other Headlines
The company found itself making headlines during the quarter for another reason as well after being sued by regulators in the state of Connecticut for allegedly misleading consumers about prices by using an internal Web page that closely resembled the Best Buy public Web site.
Best Buy did not comment on the case during its earnings conference call; the matter is not expected to have a material impact on results. However, the snag may underscore that the company can improve the way it integrates its brick-and-mortar and online stores, especially as it seeks to boost profit margins, said Forrester Research analyst Carrie Johnson.
"A lot of retailers have struggled with making the most out of that synergy," Johnson told the E-Commerce Times. "Best Buy appears to have room for improvement in that area."