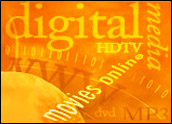 The BBC announced Wednesday it will launch its iPlayer on-demand TV service on July 27. Initially restricted to users in the UK, the service will become available to an expanded Internet audience in the fall.
"It's a revolutionary service which offers audiences more value, because from now on they never have to miss out on their favorite programs — or those that they didn't previously have the opportunity to try," said Jana Bennet, director of BBC Vision.
Under development since 2003, the iPlayer received final approval from the BBC Trust, the network's governing body, back in April. The player is currently in a closed beta being tested by some 15,000 users. On July 27, the BBC will open the beta to the public, increasing the number of user over the summer in a "controlled manner" before officially launching the service in the fall.
Beeb Tube
Users will have 30 days to watch a downloaded a program. Once viewed, the program file will delete itself. Viewers will also be able to watch promotional clips of programs that will link to the iPlayer and enable them to download the full program.
Potential partnerships with organizations including MSN, Yahoo, MySpace, Blinkx and Bebo will bring the iPlayer greater functionality in the future, the BBC said. Extra features will also be added to the iPlayer, such as streaming video on demand, series stacking — which allows users to download episodes from selected series retrospectively — and the BBC Radio Player.
A display setting toolkit will assist those with vision difficulties, and sign language assistance for the hard-of-hearing will be available at launch. Subtitles and audio description set to roll out in the coming months.
"BBC iPlayer is a free catch-up service for UK license fee payers," said Ashley Highfield, director of Future Media & Technology. "Your favorite programs from all the BBC's network TV channels will be available to download over the Internet, and watch on your PC without advertising for up to a week after transmission."
Viewers can download the BBC iPlayer. With its official launch in the fall, the iPlayer will be available on the BBC Web site and via links on YouTube and other as-yet unnamed distribution partners.
"This is an important step forward in terms of content availability," Josh Martin, a Yankee Group analyst told E-Commerce Times.
This is about high value current content, Martin said. Having its own player will enable the BBC to drive traffic to new content, generate advertising revenue in unique and interesting ways and ultimately to control the distribution of their content.