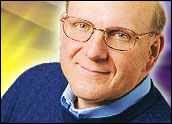 Microsoft CEO Steve Ballmer offered frank answers — and a few dance moves — on a host of topics Thursday, addressing his company's bid for Yahoo and sharing his thoughts on rivals such as Google and Apple.
Venture capitalist Guy Kawasaki interviewed Ballmer at the Microsoft MIX Conference — a gathering of developers who work on the Microsoft platform. The result was a wide-ranging discussion of the challenges and opportunities facing the software giant.
The MIX conference was the site of Ballmer's infamous "Monkey Boy" performance, where he began a presentation by leaping around the stage and chanting the word "developers" repeatedly. This year, in a nod to that precedent, Ballmer modified his chant to "Web developers," drawing a rousing response from the 1,500 software engineers on hand.
'The Next Super-Big Thing'
Ballmer did not necessarily break any news in his comments, but did touch on many of the big issues facing Microsoft, including its battle to buy Yahoo for US$44.6 billion — an offer the Web portal has so far rebuffed.
"Advertising on the Internet is a big thing, and will be the next super-big thing," Ballmer said. "We've got a long way to go, and Yahoo seems to be a way to accelerate that with the critical mass that's really required to compete.
"We made an offer," he added. "It's out there, baby."
Google Who?
Kawasaki has had a long relationship with Microsoft rival Apple, having served as a research fellow at the company in the mid-1990s and having founded a software company that made products for the Macintosh platform.
Ballmer cited Apple as one of several of Microsoft's competitors in the software space — along with Linux, IBM and Oracle — but said Google was not yet appearing on its radar screen in that space, despite its efforts to create a family of Web-based productivity applications.
"They've got aspirations, but they're not present," he commented.
By contrast, Ballmer suggested that Microsoft is the neophyte in the Web services arena where Google has grown rapidly.
"We're just the little engine that could and we're working away and working away," he noted. Pressed on the issue, he said Google has 90 percent market share in some countries, prompting Kawasaki to ask if an antitrust complaint was in the offing. "You want governments to sue people for antitrust," Ballmer responded.
Though he gave Kawasaki a hard time about sporting a new MacBook Air computer, Ballmer did acknowledge the success Apple has had with the iPhone, calling it a "very prominent product."
"They're going to continue to do good work, and we're going to continue to compete with all vigor and energy," Ballmer said of Apple, though he also responded to Kawasaki's suggestion that the software giant could kick the smaller rival away "like a Chihuahua" with a series of small-dog barking sounds.
Silverlight on the iPhone?
Later, an audience member asked whether Microsoft would make a version of its Silverlight mobile browser technology for the iPhone.
"We want to do Silverlight everywhere," Ballmer said. He also noted that Apple is charging relatively high royalty rates for programs that run on its iPhone platform.
Silverlight, which is Microsoft's tool for delivering Web video to various devices, could become a key entry point into the broader mobile and Web video market, Forrester Research Principal Analyst James McQuivey told the E-Commerce Times.
"Silverlight would let Microsoft have a role in delivering video from the Web, which of course means delivering and enabling video advertising," McQuivey said.
Ballmer's Brain
Other topics Ballmer addressed include the pending departure of founder Bill Gates, who later this summer will end his day-to-day involvement with Microsoft to focus on his charitable foundation.
"We don't know exactly what that means, being part-time," Ballmer said, adding that the company has already identified a strong group of leaders to step up and help guide the company. Though Gates has been synonymous with the company since its founding, Ballmer added, Microsoft's success stems from the work thousands of employees do in concert.
Microsoft's succession plan — which has Ray Ozzie taking over as chief software architect — seems to have been well thought out and built to address the emerging Internet opportunities, not only for consumer services but also for Web-based applications, Gartner analyst David Smith told the E-Commerce Times.
"Microsoft is starting to address the Software as a Service opportunity in a big way, and doing so will help it face one of its biggest challenges," Smith said. "The company has had a long time to ensure that its executive lineup matches its strategy and the changing competitive landscape."
Meanwhile, Ballmer also addressed the growth of social networking. "The notion that people are going to use the Internet more and more richly and more and more deeply to stay in touch with their friends, to make new friends, that's not a fad. There's no question that's not a fad. The fundamental nature of how people socialize is changed forever," he said, adding that still unknown is what the business models for the niche will look like in the end.