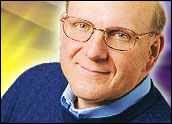 Microsoft has strategies in place to deal with the twin competitive threats of Linux and Google, CEO Steve Ballmer said Thursday, with the software company using innovation, tenacity and time to gain on its rivals.
Ballmer said Microsoft planned to use "sheer tenacity" to wrest market share in the online advertising space from Google and Yahoo, using its software-as-a-service approach to create a range of opportunities to generate interactive advertising revenue. He said Microsoft has targeted a five-year plan for catching up and overtaking Google in that space.
Staying Ahead of Open Source
Acknowledging gains made by Linux and open source in key areas of corporate computing, Ballmer said the software giant's response would be additional innovation that helps keep its products ahead of the open source community.
The comments came during a visit to Silicon Valley — Google's back yard — when he took part in an event hosted by the Churchill Club and Commonwealth Club.
Ballmer also argued that Microsoft is still a growth company along the lines of Google. Though its day of 20 percent year-over-year sales growth may be behind it, Ballmer said its focus on innovation and its willingness to invest heavily in research and development "qualifies us as a growth company."
The comments from the often fiery CEO came just days after Microsoft touted its arrival in the online advertising space, with the full U.S. launch of its adCenter platform and a two-day interactive advertising and new media forum at its Redmond, Wash. headquarters.
The talk also came just a day after Google invited the press to its Mountain View, Calif. campus to see previews of its own search and advertising innovations.
Remembering Linux
Because of Google's dramatic growth and its rise to dominance in the online advertising space, the competition that Microsoft faces from Linux has taken a back seat recently in the public discourse about Microsoft. Ballmer said that wasn't the case inside the company.
Linux has a superior high-performance cluster-computing technology, Ballmer said, but that too will change over time.
"We are hard at work at it. You take a look at what is going on in security appliances, we need better technology. So there are two or three areas where Linux has really developed a position," he said. "It's hard to beat open source on initial cost of procurement; it is not hard to beat open source on total cost of ownership."
In previous memos to Microsoft employees, Ballmer has often focused on Linux as the single most pressing threat to the software company's long-term growth and profitability.
Five-Year Plan
On catching up to Google, who Ballmer acknowledged got off to a strong start while Microsoft was late to the search and advertising game, the CEO said time was on Microsoft's side.
"I don't think you will see some overnight transformation," he said. "It's going to have to be longer term. It makes sense to talk in terms of five years."
Microsoft may be trying to downplay expectations, given that Google has such a significant lead and because any innovations Microsoft is able to make in search will likely be met by its rivals, making it more difficult to make up ground quickly, said Gartner analyst David Smith.
"Microsoft recognizes that its best opportunity to become a strong growth company again lies with what it can do in the online advertising space," Smith told the E-Commerce Times. "It represents a major shift for a company that had more than 20 years of experience in doing things largely the same way — making money from software licenses."
Ballmer acknowledged the risks of not changing and said the early versions of Microsoft's software-as-a-service model now being tested are evidence it can adapt. "The biggest competitive threat we face is our own ability to either embrace or compete with alternative business models," he said.