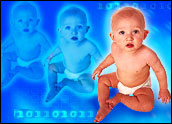 You may have thought there was a television channel for everything and everybody, but DirecTV is the first to launch a channel for viewers too young to complain about the programming. Some child experts, though, are complaining that the viewers are too young to watch television in the first place.
Amid heated debate, BabyFirstTV launched a premium channel on DirecTV on Thursday. The channel aims to provide rich, positive content for babies, toddlers and their parents. Developed by leading experts in child development and education, BabyFirstTV includes interactive opportunities designed to help parents and baby to bond, learn and explore together.
"We created BabyFirstTV to provide parents with affordable and age-appropriate content — offering new opportunities to interact with their children. The channel offers a positive, educational and engaging experience for babies during their early stages of learning, while providing high quality content when and where parents want it," said Sharon Rechter, executive vice president of business development and marketing for BabyFirstTV, and one of its founders.
Commercial-Free Learning
BabyFirstTV offers unique, interactive features and content that makes it different than any other children's programming or DVDs in the market today, Rechter added. BabyFirstTV targets babies up to three years of age in a commercial-free learning environment. The channel features 80 percent original content.
BabyFirstTV offers hundreds of hours of new and different programming for less than the price of a single baby-branded DVD. DirecTV is offering subscribers free access to the programming for the month of May in celebration of Mother's Day. After that it will cost US$9.99 a month.
"We have seen a strong demand for high-quality programming for babies and their parents that is safe and suitable for young viewers, and content that can help them bond and interact together," said Dan Fawcett, executive vice president at DirecTV.
Redefining Kid TV
BabyFirstTV's content is supervised and supported by a worldwide advisory board that provides academic supervision as a key to ensuring programming quality. The board is comprised of leading child psychologists and development experts.
"We're trying to redefine the way traditional television is perceived — it's more than a box in your living room," said Dr. Edward McCabe, M.D., Ph.D, physician-in-chief, Mattel Children's Hospital at UCLA and BabyFirstTV Advisory Board member. "When used responsibly, television can be a powerful interactive medium that provides parents with unique opportunities to bond with their children. The key is the quality and interactive nature of the content, and this is what BabyFirstTV offers to parents."
Opposite Impressions
Not all doctors are supporting BabyFirstTV. The American Academy of Pediatrics (AAP) maintains that children under the age of two should not be exposed to television for two major reasons.
First, the baby's brain is still developing. Doctors do not understand what happens when that brain is exposed to too much television stimuli, explained AAP spokesperson Dr. Kenneth Ginsburg. Second, the AAP is concerned that television will get in the way of the child-parent bonding, not encourage it.
"What we know absolutely is that the most important thing that happens in the first couple of years of a child's life is they form a deep connection with their parents," Ginsburg told the E-Commerce Times. "We know that connection is forged through active play, active interaction and reading. We know that kids who are read to grow to learn to love books and that it is a stepping stone towards a lot of positive things that can happen in the future."