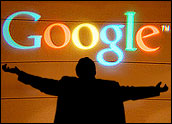 A New York state lawmaker has filed suit against Google, claiming the search engine has profited from helping users access child pornography and saying that the company has already demonstrated the ability to stop such searches through its dealings with the Chinese government.
Jeffrey Toback, a representative in New York's Nassau County Legislature — a layer of government between the state legislature and local community governments — filed suit Thursday with the New York Supreme Court. The action seeks to stop Google from providing search results involving child pornography.
Thanks to AdWords, Google's paid listings service, child pornography has become an "obscenely profitable and integral part" of the search company's business, the action claims.
Toback said Google demonstrated that it can completely prohibit certain words and phrases from being searched for when it agreed to demands from leaders in China to censor democracy-related words and phrases in order to be able to operate in that country.
"Defendant is willing to accede to the demands of the Chinese autocrats to block the search term 'democracy,'" the complaint reads. "But when it comes to the protection and well-being of our nation's innocent children, Defendant refuses to spend a dime's worth of resources to block child pornography from reaching children."
Google noted that it already has several controls in place meant to squelch child pornography, including a policy against such listings being returned on its search engine. Google said it regularly turns over information about such sites to law enforcement agencies when they are brought to its attention.
Protection From Above?
Google's AdWords platform also has prohibitions against such search results and Google developers created a "safe search" filter that users can put in place to block certain results.
Those technologies may help it fend off the suit or others like it, experts say, because the Federal Communications Decency Act provides protection for search engines and others when they make "good-faith" efforts to restrict access to obscene materials. The same legislation essentially says that Google and other search engines can not be held liable as publishers or disseminators of pornography if they are making those efforts.
Though the suit contains boilerplate language about unspecified monetary damages, Toback has said the goal of the action is not to get money out of Google but to get a court to order the search engine to block sites engaged in "advertising, promoting or distributing" child pornography.
Google is the only search engine mentioned in the suit, though similar keyword delivery systems exist on other major search sites.
Raising Tough Questions
The case stems from Google's ability to dynamically deliver ads based on a keyword search, Search Engine Journal editor Loren Baker said. As anyone who's used the search engine can attest, however, such keyword results don't always match up with the true target of a search.
Baker noted that Toback has made protecting young people a major part of his political career, having filed legislation limiting teens' access to tanning beds, for instance.
The case may well raise questions about the types of searches that Google is able to derive ad revenue from, and whether its "do no evil" motto is put in jeopardy by some of the searches that take place on its network, but those types of questions, while troubling, often do not translate well into legal action, Baker added.
Google has already had the "no evil" motto thrown back at it for its dealings with China, where it is one of several Internet companies that have agreed to go along with state-sponsored censorship rules in order to have access to that huge and growing market.
Meanwhile, regulators and federal lawmakers are moving forward with various plans to cut down on child pornography and on having pornography viewed by underage Web users. The U.S. Justice Department has proposed a system of stiff fines for Internet service providers and others in the space that fail to promptly report child pornography activities taking place on their networks.