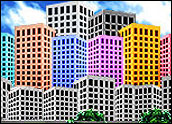 Attention! We're listening!
Seeking competitive advantage and profitability through good relations with the social media, the B2B (business-to-business) world has energetically embraced the grand online colloquy known as the two-way talk-back "conversation."
Blogs, vlogs, e-communities and social networks, Internet forums, message boards, chat rooms, wikis, podcasts, webcasts, videocasts, RSS (really simple syndication) feeds — these online social media platforms are now in play in the B2B relationships that organizations have with their vendors, suppliers, partners, contractors and other third-party value-chain entities leading all the way to the end customer. Social media-based approaches to B2B marketing — treating business contacts as consumers first — emphasize listening to what those contacts have to say.
Digital Media Relations — DMR
Historically, B2B media relations centered on one-way communications with business and industry trade press publications. However, in the Web 2.0 business world, just getting the word out to a few familiar editors will no longer suffice. Standard publicity seeking and market feedback measurement practices have been transmogrified in the socio-digital realm into a discipline called "digital media relations" (DMR).
"What we're seeing is a reversion to the objective of building a dialog with your influencers and audiences, and developing content that helps to earn understanding and support," said Philip Sheldrake, director of Racepoint Group UK, a DMR practitioner. "I guess this is called 'new' or '2.0' because a new and large swathe of those channels are digital."
The DMR goal is to identify specific public and media Web sites, Internet forums and online communities that have an audience profile in line with the company's target base. Then Internet publicists actively engage these social media platforms, trying to create a buzz for the company and its campaigns and drive traffic to the corporate Web site or new product/service "micro-sites." PR pros craft the messages, enter the dialog and make the introductions that ultimately lead to the client finding active partners and buyers, getting on short lists, closing orders and getting paid, while in the process retaining influencer and audience loyalty.
Demand Generation vs. Brand Building
"Harnessing the Power of New Media Platforms," a joint 2007 survey by the Association of National Advertisers and BtoBonline.com, reported that new media platforms fall into three distinct tiers.
The top tier includes proprietary Web sites, e-mail marketing, online ads, search engine optimization, search engine marketing and webinars. The middle tier includes blogs, RSS feeds, podcasts and video on demand. The bottom tier consists of wikis, mobile, viral video, social networks and Second Life, the Internet virtual world and MMORPGs (massively multiplayer online role-playing games).
"The bulk of the budget dollars allocated to new platforms will go to the entrenched forms — the company's own Web site and e-mail marketing," explained Frank Dudley, marketing vice president at Guideline, a Boston-based global market research firm.
With the notable exception of a company's own Web site, demand generation is the primary objective of B2B marketers using new media platforms in the top tier, according to the survey. The middle and bottom tier platforms are viewed as more suitable for brand-building activities.
Few B2B marketers in the survey found social networks or viral video to be very effective in demand generation. B2B respondents said the two main barriers to the adoption of new media platforms were lack of experience and a perceived inability to prove effectiveness and return on investment (ROI).
Media Relations and DMR
Traditional media relations activities involve pitching stories to editors, issuing and following up on press releases and monitoring key publications and media outlets.
Specifically focused on online media, DMR seeks to engage in conversations in the blogosphere and communities. In addition to popular industry-specific blogs, another example of prime DMR targets are the community bookmarking sites such as Digg, Yahoo Buzz, Mixx, Reddit and Del.icio.us, which also serve as news aggregators.
Sheldrake's Racepoint Group identifies primary DMR activities as top influencer identification, trend analysis, content creation and outreach campaigns. Monitor Clipper Partners has bet US$30 million on the soundness of this approach.
In November 2007, the Cambridge, Mass.-based private equity firm invested $30 million in W2 Group, which wants to become the dominant player in the multibillion-dollar Web 2.0 market. W2 Group is led by chairman and CEO Larry Weber, author of the book Marketing to the Social Web: How Digital Customer Communities Build Your Business.
"In new media, marketers have to build relationships and engage in dialogs with customers, employees, partners and others — it's no longer about just pushing products and services on people through one-way communications," Weber told the E-Commerce Times. "It's about dialog and engagement. It's less about advertising and PR, and more about environment creation."
Blogosphere and Blogger Relations
Blog tracker Technorati says that it currently tracks 112.8 million blogs and more than 250 million pieces of tagged social media in the blogosphere — the total universe of weblogs, journals and diaries maintained on the Internet.
Blogging is a form of interactive journalism made possible by the symbiotic relationship between bloggers and traditional journalists in which bloggers often cite and link to mainstream news articles, while mainstream journalists often get story ideas from blogs they monitor.
In the transition from old to new media, W2 Group's Weber sees blogging, not social networking, as the most significant development.
"Blogs like Boing Boing are now more widely read than The New York Times," he said. "Blogs will become self-editing, and the ones with the most compelling content will endure. The new generation is an online generation. They don't read daily print newspapers and watch TV news."
However, there are problems for the traditional media in the maturation of the blog culture, according to Phil Fersht, research director at AMR Research.
"The lower-tier trade publications are getting a hammering," Fersht wrote in his Outsourcing Blog. "Why go to some of the traditional trade magazines and Web sites, when there are a plethora of blogs out there with up-to-date news, and great debate — and from people who generally know their stuff. What's more, you get to be part of that debate and you can decide whether these blogs are worth reading."
While the trade press is still delivering the news, the bloggers are delivering most of what Fersht call the "color commentary."
Why Content Is King
Content is hailed as "king" online not because it is actually impelling or compelling for people seeking information, but because textual information rules as an aid to the operations of raw search tools.
DMR activities grow naturally out of standard SEM/SEO (search engine marketing/optimization) processes that increase the amount of visitors to client Web sites by achieving high rankings for them in search engine search results, said Tim Howell, principal of Binary Pulse, a technology marketing firm.
"With traditional PR outreach, the goal is publicity and editorial coverage from gatekeeper reporters and editors in the trade and business press," Howell said. "But the ongoing shift from old to new media means that tools like online press releases, because they leverage the immense lead-generating potential of search engines, can also now be used for business purposes like finding new prospects."
More than 90 percent of B2B prospects use the Internet to research a purchase or a partnership, so marketing communications vehicles like press releases can be treated as direct marketing materials, according to Howell. Keyword phrases that a sales prospect might use in an online search can be embedded in the text and hyperlinked back to the company's Web site. Distribution seeds the press release across the Web onto news portals and in e-zines and social media sites like blogs. True news value assures that these announcements continue propagating throughout the Internet.
"Frequent, sustained releases of company announcements this way has a cumulative effect that steadily raises the firm's search engine profile," Howell told the E-Commerce Times. "You create a trackable, targeted marketing campaign with very high ROI, and you achieve search engine visibility, demand generation and brand support."
New Tools for the Trade
The commercial online news and press release distribution services have been adding social media elements to their news release distribution, intelligence and monitoring, and media portal Web site services:
B2B in a Web 2.0 World, Part 2: Social Media Marketing