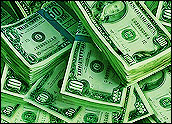 After a summertime lull, the private equity buyout trend returned to the tech sector Friday with networking systems maker 3Com agreeing to be bought by Bain Capital, with a minority stake going to China's largest networking company.
Marlborough, Mass.-based 3Com — which was at the forefront of the computer networking movement in the 1970s, shortly after its founder helped develop the Ethernet technology that enables computers to interact — agreed to be bought for US$2.2 billion in cash. 3Com confirmed the deal early Friday, shortly after published reported disclosed talks were underway.
The company's board unanimously agreed to support the deal and will recommend all shareholders tender their stock to complete the acquisition, 3Com said. Each stock will be exchanged for $5.30 in cash, a 44 percent premium over the Thursday closing price of $3.68.
In early Friday action, shares of 3Com surged almost some 35 percent to $5.01.
'The Best Value' for Shareholders
The buyers are Bain Capital, a Boston-based buyout shop, and Huawei Technologies, a major networking gear maker in China. Huawei will own a minority stake after the deal closes, which the parties think can happen early in 2008.
"The 3Com board of directors and senior management team have thoroughly reviewed our strategic alternatives and have determined that the agreement with Bain Capital provides the best value for 3Com shareholders," said 3Com CEO Edgar Masri. "We believe that this agreement better positions 3Com to establish itself as a global networking leader, which will benefit our employees, our customers and our partners."
The buyers will give 3Com a boost in markets where it now lags, including Asia and parts of Europe, the parties said.
'Opportunities to Grow'
"3Com has a strong competitive position, and we believe there are significant opportunities to grow by acquiring customers and introducing new products," said Jonathan Zhu, a Bain Capital managing director, based in Hong Kong. "We look forward to working with the management team and the company's strategic partners to seize the worldwide growth opportunity that exists."
3Com and Huawei had been partners starting in 2003 on a joint venture, known as "H3C," that aimed at the Chinese market. 3Com bought out Huawei's stake in that venture earlier this year and the company had acknowledged the integration process was taking longer than it expected.
Asia may be a key to the buyout, 3Com founder Robert Metcalfe told the E-Commerce Times.
"Bain must think that public investors have been underappreciating 3Com's opportunities in Asia with Huawei against Cisco," said Metcalfe, who left 3Com in 1990 and today is a venture capitalist with Polaris Ventures outside Boston. Metcalfe developed Ethernet while working at Xerox' legendary Palo Alto Research Center (Parc).
"I recall when 3Com was private the first time — not a bad thing [but] better now," he said, given regulator requirements such as Sarbanes-Oxley.
Profit Problem
Private-equity buyouts occurred at a breakneck pace through the first half of 2007, only to slow to a crawl over the summer amid the corporate credit crunch.
Bain has been in on several major tech deals in the past, but it typically focused on buying noncore assets of large companies and trying to unlock hidden value. For instance, it bought the software business from tech services giant EDS in 2004 and last year acquired the appliance controls business of Texas Instruments.
Whether the equity firm and its partner can help 3Com regain lost market share will depend on how well it matches up against clear market leader Cisco, said Gartner analyst Ken Dulaney.
3Com had fiscal year 2007 revenues of $1.3 billion and employs some 6,000 people worldwide, but has struggled to gain and retain profitability. Just last week it reported an $18.7 million in its first quarter — up from $14 million in the same quarter last year. Sales were up 6 percent year-over-year to $319.4 million.
It has also seen Cisco steal market share in the enterprise networking space, as both seek to add offerings that capitalize on trends such as VoIP (Voice over Internet Protocol) and IP video. It has also followed Cisco's lead by integrating security into many of its products, including through acquisitions such as its purchase of intrusion detection firm TippingPoint.
"Cisco now sets the agenda for the enterprise networking industry," Dulaney told the E-Commerce Times.
Global Growth
Its moves to acquire wireless networking and video-over-IP firms have set the table for future growth, but there is room for competitors to get traction by making networking simpler and "reducing the operational burden" that large-scale networks place on an enterprise's information technology staff, he added. The best chance for 3Com may be to continue to establish itself in China and other Asian markets where the market remains more fluid.
3Com founder Metcalfe, meanwhile, has a more simple request for the company's future.
"I hope they keep calling it 3Com so I can keep saying I founded it," he quipped.