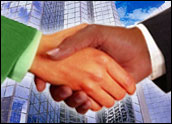 Palm, the handheld device maker that has been searching for a way to rejuvenate its business in the face of competition from the BlackBerry and other smartphones, will sell an ownership stake to a private equity firm, raising US$325 million that it will turn over to shareholders.
Elevation Partners — a private equity firm whose five main backers include U2 lead singer Bono and Fred Anderson, a former Apple CFO — will gain a 25 percent ownership share in Palm. The deal is the largest investment Elevation has made to date.
In conjunction with the capital infusion, Palm also gained new board members, including Anderson and Jon Rubinstein, the former senior vice president of hardware engineering and onetime head of the iPod division at Apple, who will become executive chairman.
Strengthening Leadership
Palm for some time was seeking strategic options; rumors of an outright sale of the company have swirled for months, gaining steam amid the current private equity buyout blitz.
The company will combine the newly raised funds with $400 million in cash on hand to make a one-time special dividend payment to shareholders of $9 per share, Palm said.
The deal will "strengthen the Palm leadership team and create a more effective capital structure" and put the company in position to "attract new talent, significantly strengthen our execution capabilities, and deliver long-term shareholder value," said Palm CEO Ed Colligan.
Shareholders reacted positively to the news, driving up Palm shares by more than 9 percent to $17.43.
An Apple in Hand
The move comes as Palm has made recent moves to revamp its product portfolio, embracing the Linux operating system for some of its handheld devices, and last week unveiling a portable device meant to be used with two hands like a notebook computer.
That device, known as the "Foleo," has garnered mixed reviews to date, however, underscoring Palm's hit-and-miss pattern with product rollouts.
Palm didn't blow anyone away with the Foleo, which is meant to be used in tandem with a mobile phone — with Bluetooth technology linking the two devices — JupiterResearch analyst Neil Strother told the E-Commerce Times.
"It's an extra gadget, and people want fewer gadgets," he said. Still, Palm may be on the right track by targeting the shortcoming of existing mobile devices, including their limited keyboard space and small screens, which can limit the amount of work that can be done on them.
Quieting the Uproar
Earlier this year, Palm hired another former Apple engineer who had a hand in designing the iPod, a sign to many that it intended to roll out more products meant to make it more of a player in the smartphone space even as Apple prepares to launch its own iPhone.
The equity stake sale stops short of taking Palm private; while it still leaves unanswered a number of questions about its future, the infusion of new experience to the board and the dividend payout to shareholders will help quiet the uproar to take more drastic action.
Colligan said Rubinstein would be tapped to help with "fine-tuning our products engine.
"This is about allowing us to put a team in place to enable us to capture a leadership position," he added.
All the while, Palm has struggled financially, posting a 61 percent drop in profit for its third quarter.
Palm has found recent success with its Treo line of products, which include lower-end smartphones, but is likely eager to tap into the higher-end market where RIM's BlackBerry is strong and where Apple's iPhone will be aimed.
Fierce Competition
While the recapitalization of Palm is seen as a boost, many analysts said Palm could benefit even more from an infusion of new talent at the top. The added board members will bring a fresh perceptive to a company that has seen phone makers take away the market share it had when handheld PDAs were hot.
With more than 1 billion cell phones expected to be sold this year, according to research firm Gartner, Palm is playing in a massive but crowded market. While Palm moved to add cell capabilities to its line of PDAs, phone makers had better success adding more features to their phones. Smartphone sales grew more than 50 percent in 2006, Gartner said, with phones that combine PDA functionality seeing 43 percent sales growth year-over-year, with Nokia and others grabbing a significant slice of that growth.
Even though PDA-phone sales are up, end user pricing has been going down due to abundant supplies and competition, said Gartner analyst Todd Kort. Palm has done better in the lower-priced and lower-margin part of the market, marketing its Treo line as a less-expensive alternative to the BlackBerry, for instance.