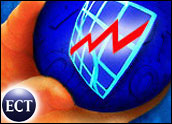 Worldwide shipments of personal computers grew more than 14 percent in the third quarter, according to two reports, with HP and Apple posting strong market share gains.
PC shipments rose 14.4 percent in the quarter to 68.5 million units, according to Gartner. Rival market research firm IDC, meanwhile, pegged growth at an even more robust 15 percent, with 66.8 million units shipped.
By either measure, the quarter represents the continuation of a solid run of growth for PC vendors, who have enjoyed a nearly unbroken string of double-digit quarterly growth rates for the past two years.
Consumer Market
The growth came largely from the Europe, Asia and Latin American markets, however, with PC sales growth in the U.S. falling off its earlier pace and missing Gartner's forecast.
"The consumer PC market continues to drive worldwide growth," said Mikako Kitagawa, a Gartner principal analyst. "Back-to-school sales were a major growth factor in mature regions, although U.S. sales were softer than expected. The popularity of mobile PCs in the home market continues to propel growth."
Sales in North America were a relative disappointment, however, with Gartner's numbers showing growth of just under 5 percent, short of the 6.7 percent growth the firm had forecast.
Back-to-school sales were softer than anticipated in the U.S., where vendors may have been impacted more by the economic fallout of the subprime mortgage meltdown, Kitigawa said.
By contrast, the Asia-Pacific market saw 23 percent growth, Latin America saw 24 percent growth and Europe and the Middle East posted 16 percent growth.
No Change at the Top
HP retained its grip on the No. 1 position for the fifth straight quarter, with growth rates above the average both globally and in most key markets, Gartner said. HP shipped 12.8 million PCs, giving it 19 percent market share and 33 percent year-over-year growth.
Dell did manage to post gains for the first time in a year, but itsgrowth rate fell below overall expansion of the market. The company shipped 9.8 million units, for a 14 percent market share and yearly growth of just 3.5 percent.
Acer was a major mover in the worldwide market, with shipments up 58 percent, a performance that will likely be enhanced by its planned acquisition of Gateway, which will provide a boost in both the U.S. and Europe.
In the U.S., Dell managed to keep its No. 1 ranking, but saw shipments fall 5.5 percent to 4.8 million units. That gives it a 29 percent market share, narrowly ahead of HP's 4.2 million units and 26 percent market share.
The Biggest Winner
The big winner in the U.S., however, was Apple, which saw shipments rise 37 percent, according to Gartner, to 1.3 million units. That gave it a market share of 8.1 percent.
Apple benefited from the larger trend toward mobile PCs, with Gartner saying that for the first time, more mobile PCs were sold than desktop units.
Apple may be in position to climb even higher in the rankings, with the upcoming release of the latest version of its operating system, Mac OS X Leopard, due to be released later this month, Gartner analyst Martin Reynolds told the E-Commerce Times.
"That release is well-timed with the fourth quarter holiday buying season about to begin in earnest," Reynolds said. "With excitement from the iPhone and the new iPod products already creating a buzz, it could be a big quarter for Apple."
Duking It Out
A number of factors could converge to keep PC demand high for some time to come, IDC analyst Loren Loverde told the E-Commerce Times.
The growth is "all about mobile PCs," Loverde added, with notebook computers finally falling enough in price to put them into the reach of many consumers in both mature and emerging markets.
Those emerging markets are key, since PC penetration remains relatively low, offering vendors plenty of room to grow if they can continue to make mobile devices more affordable.
The robust growth presents a small risk for shortages of some components that could prompt prices of those parts and of PCs to rise, IDC said. However, vendors have become adept at planning ahead far enough to meet fluctuations in demand, Loverde noted.