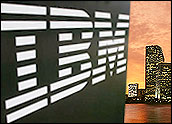 IBM's hardware sales fell in its third quarter, but stronger software sales and service contracts helped the company post positive results.
Big Blue attributed the drop in hardware sales — revenue fell 10 percent in total and 6 percent when adjusted for the sale of its printing line to US$4.9 billion — in part to the subprime credit problems plaguing financial services companies, who make up a key component of the company's customer base, buying many of the mainframe computer systems it produces.
Even with that decline, IBM managed to post a 7 percent increase in overall revenue to $24.1 billion, while income rose 16 percent to $2.3 billion, or $1.68 per share. Both measures narrowly beat consensus Wall Street estimates.
Staying on Track
"Our outstanding services results this quarter enabled us to stay on track," said CEO Samuel Palmisano, who acknowledged IBM is working through a transition in its hardware business.
New mainframe products are due to be released next year, which may be causing some customers to delay purchases, noted CFO Mark Loughridge. That includes new products in the System Z server line, which saw the sharpest drop in sales at 31 percent.
"Our year-to-date performance underscores the strength of major elements of our long-term road map, including revenue growth, margin expansion and continued success in emerging market countries and in the integration of our acquisitions," Palmisano added.
IBM shares were down nearly 3 percent in morning trading Wednesday to $116.46 as investors apparently chose to focus on the bad news in the report. IBM did not give any updated fourth-quarter guidance.
In some ways, the third quarter may represent an acceleration of IBM's stated desire to move away from its reliance on hardware sales and get more of its revenue — and therefore higher profit — by selling more software and services. Earlier this year, Palmisano said by making that shift, IBM could drive double-digit earnings growth for several years to come.
Big Blue recently sold off its printing services business and left the PC business in 2005, leaving a hardware business focused mainly on large-scale corporate mainframe computers.
Credit Crunch?
The turmoil in the financial services sector dented that business segment. Since major banks and other financial institutions are key customers, IBM said it likely lost 1 percentage point of top-line growth due to weakness among banking customers, likely because the subprime mortgage crisis prompted at least a short-term reduction in IT spending.
Some deals IBM expected to close during the third quarter did not come to fruition, Loughridge said, adding that the company will redouble efforts to finalize those sales in the fourth quarter. "Our hardware business didn't meet our expectations," he noted.
Still, IBM's other business lines picked up the slack. Revenue from services, which now make up more than half of the company's total sales, rose 14 percent to $13.68 billion. It also signed new service contracts worth $11.8 billion during the quarter.
Software sales rose 6.5 percent to $4.7 billion. That business remains IBM's most profitable segment, which is a key reason why it has spent billions in recent years to acquire a stable of specialty software makers.
IBM saw growth in all regions, including North America, which had been lagging, but saw a 4 percent increase in revenue. Revenue in Europe was up 11 percent; sales in Asia increased 9 percent. Key emerging markets were also strong, such as India, where revenue rose 30 percent, and Russia, where revenue was up 20 percent.
Transition Time
IBM's weak hardware performance may have had more of an impact on the overall tech sector if not for strong earnings from Intel and other chipmakers that suggest continued strong demand for PCs and servers.
The strength in services bodes well for IBM's long-term future, since it has shown an ability to use its service engagements to drive sales of both hardware and software, said Gartner analyst Martin Reynolds.
"IBM has shown it can leverage services effectively," Reynolds told the E-Commerce Times. "So far it has also managed to integrate its software acquisitions without much in the way of performance drop off as well."
New Turns
IBM's software push has taken new turns recently, including the recent announcement that it would make a version of the OpenOffice.org productivity suite, known as "Symphony," available for free, part of the larger mission of becoming a one-stop shop for technology solutions, Reynolds added.
The hardware business' performance does increase pressure on IBM to show strength there in the fourth quarter, ThinkEquity Partners analyst Eric Ross told the E-Commerce Times.
The hardware business had the weakest growth of all segments in the second quarter as well, he noted, with growth of less than 2 percent.
"Analysts and investors will be looking for signs that the business isn't being eroded by competitors," Ross said. "The fourth quarter will be an important one."