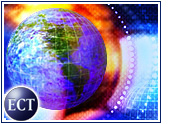 Concerns over e-commerce, free trade, and the still-undecided U.S. presidential election highlighted the first day of the annual two-day Asia-Pacific Economic Cooperation (APEC) summit, which began Wednesday in Bandar Seri Begawan, Brunei.
Although the economies of the 21 APEC nations — ranging from suchdeveloping nations as Peru, Thailand and Malaysia to giants likethe U.S., Japan and Canada — are expected to grow an average of 4.3 percent this year, leaders of some of the smaller members expressed concern that they will be left behind by the world's growing reliance on e-commerce.
E-Commerce Concerns
Overall, most Pacific Rim nations are positioned to be a part of the digital age, with some of the smaller countries demonstrating marked progress. For example, a survey released in July by the Meta Group illustrated that the Philippines has a high percentage of high-tech workers, whileSingapore unveiled its own plan last Aprilto boost that country's information technology and telecommunications sectors.
However, despite these advances, leaders of some smaller countries at the APEC conference grumbled that they are being left on the wrong side of the digital divide.
Acknowledging that e-commerce will play a crucial role in the coming years, U.S. leaders are working to allay concerns by advancing a Networked World proposal. If implemented, the proposal's provisions would lower e-commerce trade barriers andcreate a set of international rules to ensure fair competition in the rapidly evolving e-commerce sector.
One important element of the Networked World proposal is to provide "technical assistance and other measures to address concerns about a digital divide that might accentuate rather than bridge technological gaps between and within nations."
Said U.S. President Bill Clinton, attending his last APEC summit, "In reality, the most successful countries were not those that started with the biggest advantages but those that made the most of the advantages they had by opening their markets and, ultimately, their societies."
Free Trade
The globalization of world markets was another contentious subject. Larger nations, including the U.S., are pushing for open markets which, according to President Clinton, are "a way to improve living standards and to lower poverty for all nations."
Developing nations expressed concern that incorporating environmental and labor regulation into world trade standards could handicap their economies and destroy their main competitive advantages: cheap labor and abundant natural resources.
"For the really controversial issues of non-trade items, like environment and labor, I would suggest we go around them very cautiously," said Thailand's deputy prime minister Supachai Panitchpakdi. "I don't think we should have them in the negotiations."
Other countries took the middle ground and urged caution. Russian President Vladimir Putin said, "Competition and selection are inevitable, but we have to study how can we minimize their dangerous consequences."
Undecided Presidency
The uncertain outcome of the U.S. presidential election also led some delegates to express concern. New Zealand Foreign Minister Phil Goff said, "People came to APEC with an expectation that the nature of the new administration would be known."
Seeking to allay such fears, Clinton said, "There will be a full counting according to legal process in America. We have plenty of time, nothing to worry about. I think other leaders should have the same reaction the American people have. I think they are pretty relaxed and are going to let the process play out."
The president added, "I know I can safely predict that this will be my last APEC summit. I just don't know who will be here next year."