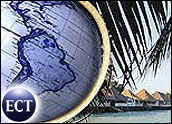 America Online Latin America, Inc. (Nasdaq: AOLA) was up 5/8 at 7 early Wednesday after the company beat analysts' estimates for the fiscal first quarter by a penny.
The company, a joint venture of America Online, Inc. and Cisneros Group, said revenue for the quarter totaled $4.6 million, as the company lost $98.1 million, or 36 cents per share, before items. Analysts had expected a 37 cent loss.
Prior year results are not comparable, as the company launched its first service, a Brazilian venture, last November.
AOL Latin America, which now offers Internet service in Mexico and Argentina as well, said it gained 191,000 members during the quarter ended September 30th, for a total of 314,000. Most users stayed online longer than 30 minutes a day, which the company said shows "a strong foundation for future advertising and commerce growth." The company expects to expand its service throughout Latin America.
Advertising and commerce revenues totaled $1.9 million in the quarter, as companies including Citibank, American Airlines and Nestle signed on, AOL Latin America said.
Analysts see Latin America, and Brazil in particular, as a source of growth for e-commerce. The Boston Consulting Group and Visa International released a study last month predicting $580 million in online sales this year, up some 400 percent from last year.
According to the report, Brazil accounts for $300 million of the total revenue and makes up a little more than half of the entire Latin American e-commerce region. Online sales in Mexico and Argentina are also growing fast, the report said. Yet analysts say hurdles remain, as levels of computer access and credit-card use in the region hold back e-commerce growth.
AOL Latin America completed its initial public offering in August, selling 25 million shares at $8 apiece.