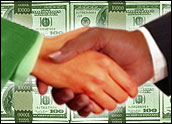 Answers Corp., which owns Answers.com, plans to acquire Dictionary.com for a cool US$100 million, the company announced Monday. Technically, Answers will buy Lexico Publishing Group, the owner of Dictionary.com, Thesaurus.com and Reference.com.
In June, Lexico's sites attracted 11.5 million unique monthly users in the U.S., according to comScore Media Metrix. In 2006, Lexico generated revenues of $7 million and net income of $2.8 million, Answers said.
Big Payday
The move is worthwhile, the buyer said, because Lexico's Web properties currently generate three times the total page views of the Answers reference site. Meanwhile, they only earn approximately one-third the rate of Answers.com.
"The bottom line is — with three times the traffic and one-third the monetization rate, together with our monetization expertise — the upside potential is compelling," Steve Steinberg, chief financial officer for Answers, noted.
"We will also offer cross-promotion to other Answers sites. For example, this acquisition will allow us to introduce our WikiAnswers property to Lexico's 11.5 million monthly unique users," he added.
While Answers plans to cross-promote, the company will keep the properties as stand-alone online brands.
Like Coffee
"This is one of those interesting cases where there is a very mundane, practical problem that these sites solve for people, and that's to provide a dictionary," Greg Sterling, an analyst for Sterling Market Intelligence, told the E-Commerce Times.
"It's like a Starbucks or bagel store," he explained. "It's a small item, a cup of coffee, a bagel, a muffin — something that people buy every single day, sometimes multiple times a day, in large volumes. And that's essentially what this online dictionary phenomena is. People go there often, multiple times a day. They are aggregating a large audience to serve ads against, and anybody who has a lot of traffic can make money."
Sliding Into Second Place
From a competitive standpoint, Answers reports that the combined properties will rank No. 2, behind the No. 1 "education-reference" Web site segment leader Wikipedia.
"Dictionary.com's success is built on its unique, descriptive domain name and simple, straightforward interface," explained Bruce Smith, Answers chief strategic officer.
"According to a Hitwise analysis of 2006 search terms, 'dictionary' was the second most popular generic search term on the Internet," he added, noting that Dictionary.com should provide steady, direct traffic.
"The most intuitive URL is not always the most trafficked destination in a category. YellowPages.com doesn't get the most traffic of the yellow pages sites," Sterling noted. Wikipedia leads its segment with a fairly odd name.
Moving Forward
The transaction is subject to financing and customary closing conditions. Answers plans to complete the transaction by fall. Of course, the company's wallet doesn't exactly hold $100 million in cash, so Answers still has to come up with the funds.
The company has filed a shelf registration statement with the Securities and Exchange Commission. The registration statement covers up to an aggregate of $140 million of common stock, preferred stock, warrants, debt securities and units that the company may sell.
The company will use the proceeds to fund the purchase price of Lexico acquisition — as well as keep a little pocket change for general working capital.