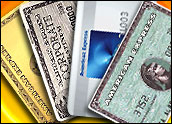 American Express is extending its financial reach to the wild world of tech startups through a new multiyear digital commerce initiative unveiled on Tuesday. The US$100 million program is designed to help identify and develop innovative technologies to aid the company's digital transformation and strengthen connections to customers around the world. The credit card company is set to make mostly minority investments in early stage startups.
The digital commerce initiative, which will be managed out of a new office in Silicon Valley, will focus on companies that address critical parts of the digital commerce experience, including loyalty and rewards, mobile and online payment management, fee-based services, security and fraud detection, and data analysis.
"The payments industry is undergoing a fundamental change as the very nature of commerce is redefined," said Harshul Sanghi, managing partner of the new enterprise growth group. "We believe our global network of businesses and consumers, international employee base, world-class customer service and data analytics will provide a significant advantage to potential portfolio companies."
Going for the Long Pass
Digital payments could be a lucrative area for American Express if it bets on the right technologies and the right companies. However, investing is small tech companies is not a path toward quick development of technology advances. American Express is planning for a time in the future when innovative ideas bear fruit after prolonged cultivation.
"What we're seeing is evidence of a long-term IT trend," Charles King, principal analyst at Pund-IT, told the E-Commerce Times. "There are plenty of companies in digital commerce, and American Express is no stranger to handling financial transactions online, so it's not surprising they would invest for the long term."
In the market for online commerce, what's growing is phone-based commerce and phone-based payments, King observed, and American Express is likely eyeing the mobile aspects of digital commerce.
"You can call this $100 million an insurance policy to make sure American Express remains at the cutting edge of these new developments," said King.
As for making bets on small tech firms, they may be long shots, but sometimes long shots win the derby.
"I think this is sound reasoning on the part of American Express," said King. "If you take a look at the portfolios of companies like HP, Dell and others, they are making a sizable effort to build out and enable digital commerce."
Because small companies are not always close to the real innovative developments that are showing up, "this is a relatively modest sum with some downside risk," observed King, "but it could also deliver some terrific upside benefits."
Late to the Party
When you think of "tech companies," American Express doesn't show up in the top 10. Most of the companies cultivating innovation have been at it for decades.
"I would say that American Express is a little late to the party," Jim McGregor, chief technology strategist at In-Stat, told the E-Commerce Times. "Yes, e-commerce and mobile transactions are huge and critical trends, but there are already a number of technologies out there competing for this business."
Being late and having little or no link to the major e-commerce or infrastructure providers puts American Express at a serious disadvantage, McGregor maintained.
"Just look at how long and hard Microsoft has tried to enter mobile and Internet-related businesses with no significant success," he said.