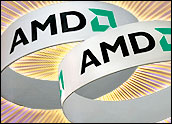 AMD's head of sales and marketing will leave the company next month, the company said, as the chipmaker finds itself struggling to regain market momentum it enjoyed as recently as last year.
Henri Richard, whose title is chief sales and marketing officer, will exit the post sometime in September. Richard decided to leave on his own, AMD said, and departs on "completely amicable terms."
Richard plans to move "to a different business segment," he said, after a 20-year career in the PC industry, including five years at the helm of AMD's sales force.
'Immensely Proud'
"I am leaving AMD at a time when the company is in position to break the monopoly that plagues this industry. I am immensely proud of my contribution to AMD, and in particular, of the strong team I leave behind," he added.
Richard delivered on his main goal, which was to "construct a world-class global sales and marketing organization focused on enduring relationships with major PC and server" makers around the world, said company CEO Hector Ruiz.
"AMD is fully focused on leveraging the momentum we established during the last five years to achieve even greater levels of success ahead," Ruiz added.
The news seemed to rattle investors, with AMD shares falling about 1.5 percent in early trading Thursday to US$11.84.
Salesman and Intel Crusader
AMD did not name a replacement for Richard or lay out a time frame for doing so, but it did say that in the future, the global sales organization would report directly to the office of the CEO.
Richard's time at AMD includes a period when the firm made a strong run at Intel, picking up market share with strong chip offerings in the mobile and server spaces. It also made aggressive moves to broaden its product lineup, most recently by acquiring graphics chip maker ATI Technologies.
During his tenure, Richard — whose resume also includes time at the now-defunct WebGain, along with Bell Microproducts and IBM — was not shy about calling out Intel for what AMD has claimed is anticompetitive behavior.
"I don't mind a good competitor. What I don't like is an unfair competitor," he said during AMD's annual Technology Analyst Day last month.
Richard was one of AMD's strongest assets, Enderle Group Principal Analyst Rob Enderle told the E-Commerce Times.
Recent issues with sales have stemmed mainly from the product side, so Richard may have grown frustrated with the way the company has been executing and possibly with the pace of integration of the ATI merger.
"Richard, in terms of sales execution, is without peer, and his departure is going to be painful" for AMD, he added.
Good Timing?
Recently, AMD has found some support from regulators for its claims that Intel acts in a way that stifles competition. The European Commission said in July it was initiating antitrust proceedings against Intel.
Nevertheless, the departure comes a month after AMD announced it lost $600 million for the second quarter, the third straight quarter of losses. To help cover those shortfalls and to pay for its ATI acquisition, AMD recently began selling its debt through convertible notes, a move that raised some eyebrows and questions about the company's long-term liquidity.
The timing may be good, said Mercury Research analyst Dean McCarron, because AMD already has its major product releases for the current cycle lined up, including the new version of the Opteron server chip.
"The plans are in place for the near-term launches so there shouldn't be any major changes in direction," McCarron told the E-Commerce Times. The company's sales force has already been selling the chips to server makers and other channel partners as well.
That product is seen as key for AMD, in part because Opteron has in the past given its best competitive results against Intel and also because the new product uses the quad-core processor known by its code-name Barcelona.
"Opteron took the market by storm in 2003," and in fact prompted Intel to make some of its most aggressive counter-moves in the market to date, McCarron said. Delays in getting the quad-core chips produced have also given Intel time to bring its own next-generation products closer to availability, he noted.
Trend in the Making?
David Orton, the former CEO of ATI, also left AMD recently. He worked directly for AMD for just nine months following the merger.
The executive departures come after AMD announced in April it would reduce hiring and seek to cut other expenses as it tried to stem the tide of red ink. AMD did not announce layoffs, but said over time it expected to cut up to 5 percent of its workforce by not filling vacant positions.
Such environments can become ripe for so-called brain drain, where a company's top workers leave rather than waiting to see if the business recovers, said John Challenger, the CEO of outplacement firm Challenger, Gray & Christmas.
Layoffs can be tough enough for morale, and that problem can be exacerbated when talented workers depart.
"A loss of the right kind of talent is always a risk when a company sets about to reduce its workforce or cut costs," Challenger told the E-Commerce Times. Often, top talent may flee when bonuses or other incentive packages are trimmed as well, he added.