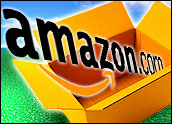 Consumers will get a break from having to wrestle with tough-to-open parcels this holiday season with the advent of "frustration-free" packaging from Amazon.com.
The online retail giant will try to cut down on the sheer volume of packaging materials used to ship purchases from the site. The effort begins with products from 19 manufacturers, including software powerhouse Microsoft, and toymakers Fisher-Price and Mattel.
The news will undoubtedly be welcomed by parents ordering some of the more popular toy items this holiday season, such as the Fisher-Price Imaginext Adventures Pirate Ship, and the Batmobile and Batpod motorcycle from the summer movie blockbuster "The Dark Knight."
Consider what will be saved on the pirate ship alone: The new packaging eliminates 36 inches of plastic-coated wire ties, 1,576.5 square inches of printed corrugated package inserts and 36.1 square inches of printed folding carton materials, according to Amazon.com. Also gone are 175.25 square inches of PVC blisters, 3.5 square inches of ABS molded styrene and two molded plastic fasteners.
Going Green
The frustration-free packaging effort — which will focus on reducing the amount of "clamshell" plastic and plastic-coated hard wire ties — is part of a larger effort to make the company more environmentally friendly, Patty Smith, an Amazon.com spokesperson, told the E-Commerce Times.
"The company is trying to reduce waste," Smith said. "This arose out of conversations within the company about becoming more environmentally friendly. One of the things we talked about is finding ways to make packaging better and smarter, and to eliminate this type of frustrating packaging. It's something we thought would help."
It's also a response to the rickety economy — Amazon.com wants to save a few bucks.
"It's our hope, over time, that the cost of packaging will go down if the packaging becomes simpler, and that would help Amazon.com save money," Smith said. "However, it's still early in the process."
Customer Response
Amazon.com is launching the frustration-free packaging effort with a "relatively small number of manufacturers," Smith acknowledged.
However, the items currently available with frustration-free packaging are expected to be among the biggest sellers, she pointed out.
"We're really happy to be launching with these marquee manufacturers," said Smith. "We're launching with a relatively small number of manufacturers, but we expect to sell millions of these products in 2009 because they are very popular products."