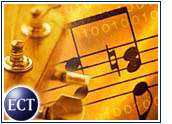 Amazon.com (Nasdaq: AMZN) stepped into the online music download arena Wednesday, launching a music community that will allow users to transfer songs for free and make voluntary micropayments to artists or charities via a "Virtual Tip Jar."
The move gives Amazon an opportunity to test-drive its micropayment technology. Amazon reportedly might expand its system for collecting so-called micropayments — generally fees of US$2 or less — for access to Internet content and other downloads.
The new branch of Amazon will use the tip jar to give users the option of making small payments for the music they decide to download. The music will be available in both MP3 and Liquid Audio form.
The rollout features free music from several big-name artists, including live or remixed tracks from the Beastie Boys, Pearl Jam and Barenaked Ladies.
According to Andy Jassy, general manager of Amazon's music store, the new downloads will benefit both the artists who will gain exposure to the e-tailer's 30 million-plus customers — driving CD sales and tips — and the record companies who will "benefit from a proven way to market their artists' releases."
Back Door Agenda
With the goal of creating a new online music downloading community, the new Amazon site will also be closely linked to the Red Hot Organization, a coalition of artists, musicians and others raising money for AIDS research. For example, the next Red Hot charity album will be made available on the site.
The charity connection will help Amazon test the effectiveness of its micropayment technology. Currently, those payments are difficult for many sites to collect because the cost of processing such small sales often wipes out the revenue. However, Amazon hopes to use its database of millions of customers to make micropayments possible across the Web.
Two-Way Street
In addition to offering downloading to music consumers, Amazon's site gives artists the option of uploading their digital music to the site, where it will be available to Amazon's customer base — who in turn can make voluntary payments.
The move comes two weeks after Amazon launched a downloadable software store, an effort timed to grab a share of the tax-preparation software market.
Revenue Avenues
Amazon, which announced in January that it would lay off 1,300 workers, continues to search for new revenue sources in the face of slowing sales growth and a demand for profits from investors.
The company said earlier in February that it would start charging publishers for the right to have their books considered for e-mail reviews.