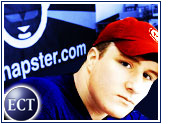 Napster unveiled its latest upgrade Thursday, complete with a link to CDNow — the first commercial use for the controversial file-swapping service to date and the most visible sign of its new relationship with Bertelsmann AG.
The appearance of a link to CDNow on the Napster page comes 10 weeks after Napster announced a strategic alliance with Bertelsmann.
Under that agreement, Bertelsmann, which runs CDNow through its e-commerce division, pledged to drop its copyright-infringement lawsuit against Napster once it was transformed into a secure, pay-for-use site.
"This is a step forward for the alliance," said Napster chief executive officer Hank Barry, calling the move "another example of how Napster's lasting impact on music and the Internet can work."
Golden Goose
The partnership may also be an attempt to demonstrate that Napster's nearly 40 million users buy music regularly in addition to swapping songs among themselves.
Napster is eager to make that argument — and show the music industry that its vast membership is a potential sales gold mine — in no small part because it still faces copyright infringement lawsuits from a handful of record labels.
On Thursday, Reuters reported that record label Universal Music Group had announced it was not likely to pursue a settlement with Napster until a U.S. court rules on whether Napster's service violates copyright law.
"Many Napster users already use and love CDNow and the new link now bridges the two sites together," Napster chief operating officer Milton Olin said. "This integration brings instant online purchasing convenience to the largest aggregation of music fans ever assembled."
Sales Impact Questioned
CDNow president Mike Krupit said that the link "completes the music discovery cycle" for Napster users.
Conflicting reports have emerged about the impact of MP3 file sharing on CD sales. Jupiter Communications has said that Napster users are actually more likely than their non-Napster-using peers to buy compact discs. However, music industry-sponsored studies have showed lower sales at stores near university campuses, where Napster use is heaviest.
Emphasis on IM
In any case, Napster's popularity is unquestioned. Last year, Media Metrix said that Napster ranked as the fastest-growing home application it ever tracked, growing from just over 1 million users daily in February to 6.7 million in August.
Napster's latest upgrade also includes more emphasis on instant messaging and message boards, designed to promote the use of Napster as a community to discuss music as well as share files.
Not Caught Napping
Napster has remained in the news even after signing its deal with Bertelsmann. Earlier this week, Napster found itself the target of an ongoing investigation in Europe into the distribution of child pornography. German police are also examining whether other file-swapping sites are being used to exchange pornography.
In a lawsuit filed in U.S. District Court in San Francisco in December, Napster reportedly claimed that Sports Service, Inc. is unlawfully selling Napster-cat logo wear and decals on its Web site, Napsterstore.com.