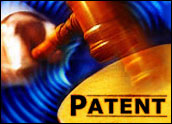 Two months after being sued by IBM for patent infringement, Amazon.com is firing back, denying it had stolen IBM technology and asserting that Big Blue's patent claims are too broad to be taken seriously. Amazon is countersuing IBM for stealing its own patents.
IBM filed suit against Amazon in the U.S. District Court for the Eastern District of Texas in October, claiming the e-tail giant is using without its permission technology covered by five patents held by IBM.
In filing a response and countersuit, Amazon said IBM's original suit made "meritless and misleading" claims.
"IBM has accused Amazon.com of infringing three patents that were not even developed at IBM, but rather were bought from a now-defunct company for the apparent purpose of threatening other companies with litigation like this to extract licensing payments," the filing said.
"IBM's broad allegations of infringement amount to a claim that IBM invented the Internet," lawyers said in the filing.
Amazon also countersued, saying that IBM is using Amazon technology in Websphere and in its information management services and products. Such a claim could be significant because it could expose IBM's customers to patent infringement claims, as well.
Too Broad?
Neither company would comment on the case.
The lawsuit takes aim at a number of the core pillars of the Amazon site, including some of the factors that have helped distinguish it as an e-commerce leader, such as its customer recommendations based on past purchases feature.
IBM's patents appeared to be overly broad for that very reason. For instance, one patent covers a means of "presenting applications in an interactive service." Another involves "presenting advertising in an interactive service," and a third covers technology for "adjusting hypertext links with weighted user goals and activities."
Still another deals with "ordering items using an electronic catalog."
In its original lawsuit, IBM said it had first contacted Amazon about the patents in September of 2002 in an attempt to strike an agreement to license the technology.
At the time of the suit, patent attorneys noted that IBM had filed two suits in the Texas district — which is known to be favorable to firms prosecuting patent cases — and that some of the patent claims seem so broad they could apply to a host of Web companies.
Amazon sounded the same theme in its latest filing. "If IBM's claims are believed, then not only must Amazon.com pay IBM, but everyone conducting electronic commerce over the World Wide Web (indeed, every Website and potentially everyone who uses a Web browser to surf the Web) must pay IBM a toll for the right to do so," the filing reads. That idea, it adds, is "nonsense."
IBM has long been one of the top patent-generating companies in the world, building up a massive intellectual property storehouse over the years, with some 40,000 patents to its name around the world. Big Blue typically secure more patents in the U.S. each year than any other company.
Recently, it became a voracious acquirer of small software firms to build out its own portfolio, adding dozens of companies in the past five years, many of them with their own patent portfolios.
Time Will Tell
One important consideration could be whether or not other e-commerce or Internet companies have purchased licenses from IBM for the technology mentioned in the suit.
Meanwhile, lawyers are betting against a quick resolution to the case, especially now that both sides have claims against the other party.
Past cases have taken years to move close to trial, said patent attorney David A. Roodman, co-chair of the Intellectual Property Group at the international law firm Bryan Cave. For Amazon, the stakes may be particularly high as the technology involved is at the core of what it does.
"Given the stakes, you are likely to see the sides dig in their heels," Roodman told the E-Commerce Times.