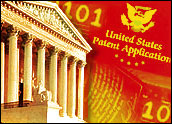 IBM said Monday it has sued Amazon.com, alleging the e-commerce retail giant has infringed on a number of its patents.
IBM is seeking unspecific damages and said the suits were filed only after some four years' worth of attempts to negotiate licensing deals between the two companies.
Covering All the Bases
Big Blue filed actions in two different Texas courts alleging that Amazon has "willfully infringed and continues to infringe on a number of key IBM patents."
The technology Amazon is accused of using without permission includes a patented method of "presenting applications in an interactive service," a means of "storing data in an interactive network," a way of "presenting advertising in an interactive service," an approach to "adjusting hypertext links with weighted user goals and activities" and a broad patent covering a means of "ordering items using an electronic catalog."
IBM said it approached Amazon repeatedly starting in September of 2002 about licensing but the company has "shown no willingness to have meaningful discussions."
"When someone takes our property, without our permission through a license, we have no option but to protect it through every means available to us," said John E. Kelly III, senior vice president of IBM Technology and Intellectual Property. "We filed this case for a very simple reason. IBM's property is being knowingly and unfairly exploited."
Seattle-based Amazon did not respond to a request for comment on the action. The suit comes as the e-tailer is gearing up for the critical holiday season.
Patent Practice
Some of the technology Amazon is accused of using without permission is at the core of its business and success, including its highly regarded system for making product recommendations based on a user's past buying and browsing habits.
IBM is certainly known for its patent prowess, annually ranking as one of the top companies in terms of number of patents secured, the fruits of significant annual investments in research and development. It now holds some 40,000 patents worldwide, Kelly said, and last year generated approximately US$1 billion in licensing revenue.
Though it did not specify who its licensees are, IBM said it has a "long history of licensing its patents covering e-commerce on fair terms" and has struck "numerous patent licensing agreements" to cover the same five patents it alleges Amazon has infringed upon.
"Everything we do is premised on the fundamental principle that IBM's intellectual property is one of our core assets, and represents the work product of tens of thousands of scientists and engineers and billions of dollars of investment," Kelly added.
Both companies saw their stock prices rise after Big Blue disclosed the suit in a press release. Amazon shares were up slightly in early afternoon trading to $32.60, while IBM shares rose just under 1 percent to $91.18.
Neither company is a stranger to patent actions. Amazon's most high profile intellectual property battle came when it sued Barnes and Noble's online arm, claiming infringement of Amazon's so-called "one-click checkout" patent.
Many have claimed that that protection was the result of an overly broad family of patents known as "business practice" patents, which cover not specific technology but approaches to conducting business. Those patents have their share of outspoken critics, who say they stifle innovation and instead reward companies who are the first to claim a practice.
The Barnes and Noble case was settled before trial. Last summer, Amazon also agreed to pay $40 million to settle a patent claim made by Chicago-based Soverain Software. That settlement came just a day before a trial in the case was slated to begin.
Hurry Up and Wait
Patent cases can take years to unfold and companies often run the risk of letting them get to court — or at least come close. In the most famous recent example, Research In Motion came within hours of facing an injunction that would have shut down its BlackBerry mobile e-mail service before it agreed to a settlement.
Fellow e-tailer eBay has been battling with MercExchange for several years. In that case, as in the BlackBerry case, the validity of some patents was challenged, a charge that is becoming more commonplace, said patent attorney David A. Roodman, a partner and co-chair of the Intellectual Property Group at the international law firm Bryan Cave LLP.
"If each side digs in its heels, these cases can take years to even get close to going to trial," Roodman said.
Arguing against the patents themselves may be difficult for Amazon, however, if IBM has licensed the same technology to others. For a publicly traded company such as Amazon, getting into a game of brinksmanship with IBM may be risky, and there is also a chance that Amazon's major partners, which include numerous established retailers, will pressure the company to settle.
Meanwhile, the suit overshadowed news out of Amazon headquarters that the e-tailer is expanding its Web store once again, this time adding automotive parts and accessories to its already-sprawling site.
The auto-parts store, which includes some 1 million new, used and remanufactured parts, is the latest store-within-a-store to be added. Earlier this year, Amazon added a limited selection of grocery items, mainly focusing on those that can be shipped to customers.