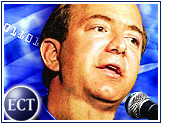 The most recognized e-tailer in the United States, Amazon.com (Nasdaq: AMZN), announced Tuesday that it will launch a French-language site Thursday. According to the company, Amazon.fr will be "dedicated to customers in France and to French-speaking customers around the world."
"This is a store created for and designed by French people, which for the first time will allow French literature, music, film and culture to be accessed easily and quickly by people around the globe," said Amazon.com senior vice president and general manager Diego Piacentini.
Booming European E-Commerce
Amazon's expanding European presence — including sites in Germany and the United Kingdom, as well as a customer service center in the Netherlands — will allow the company to take advantage of an expected boom in European e-commerce.
A study by Forrester Research predicts that online business-to-consumer (B2C) sales are set to grow explosively in Europe from $2.8 billion (US$) in 1999 to approximately $170 billion in 2005.
Complete Catalog
Amazon boasts that Amazon.fr will offer a complete catalog of French titles, including books, music CDs, DVDs and videos.
Amazon.fr will be supported by two facilities in France, with operations and administration at Guyancourt and a distribution center in Orleans. Customer service will be handled through Amazon's pan-European customer service center in the Netherlands, which employs native French speakers to work with Amazon.fr customers.
Cultural Sensitivity
As Amazon steps into France, the e-tailer will need to tread carefully to avoid offending cultural sensitivities or breaking laws governing the type of materials that can be distributed. As the Seattle, Washington-based e-tailer and other U.S. companies have discovered, setting up shop abroad is not as simple as opening distribution centers and taking orders.
For example, last year Amazon pulled the plug on sales of Adolf Hitler's Mein Kampf in Germany after running afoul of strict German laws against the dissemination of hate material.
Another Web giant, Yahoo!, is embroiled in a lawsuit in France over the sale of Nazi memorabilia through its Santa Clara, California-based auction site. A French court ordered the company to find a way to block French citizens from accessing auctions of Nazi material.
After Yahoo! told the judge it did not have the technology to block the auctions, the judge appointed a panel of Internet security experts to find a solution.
Customer Service Center in India
In related news, Amazon announced that it has selected New Delhi, India-based Daksh.com to provide Web-based customer service from India. The company said that the move will allow it to leverage "India's high-quality and cost-effective customer care professionals."
Founded by senior executives from Motorola, 3Com, Compaq and Pepsi, Daksh.com's service offerings include e-mail responses, real-time chat services and knowledge management.
Amazon said it plans to become a shareholder of Daksh.com.