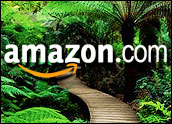 A record holiday season pushed Amazon to nearly US$4 billion in sales in the fourth quarter, but a heavy reliance on electronics sales, continued promotions and shipping discounts ate into profits, forcing executives to defend some of its recent moves into new markets.
Profit plummeted 50 percent from the fourth quarter of 2005, though some of that was due to a favorable 2005 tax disposition. Still, the company's profit of $98 million, or 23 cents per share, and sales of $3.99 billion, surpassed most analyst expectations.
"We had a record holiday season with accelerating revenue growth," said founder and CEO Jeff Bezos.
"We're getting more share of wallet from customers," added Chief Financial Officer Tom Szkutak.
The earnings report underscored Amazon's challenges as it moves into new product categories, which have boosted sales and drawn in new customers. Many of the newer markets — such as electronics — are notoriously thin-margin businesses.
Coupled with Amazon's desire to retain free or discounted shipping for customers, the e-tailer's ability to sustain profit growth remains a major question.
Profits Puzzle
Amazon's operating profit margins were at their lowest point in seven years.
Those margins will improve over time, as Amazon becomes more of an established player in new markets and reduces promotional giveaways meant to attract shoppers to new offerings, Szkutak argued.
"We entered a lot of new categories," he said in a conference call. "Over time, we'll be able to get those margins to be very solid."
The quarter was the first holiday period after Amazon and Toys 'R' Us agreed to end what was to have been a 10-year partnership. Amazon estimated this parting of the ways cost as much as 1.6 percent of revenues.
The company also argued that promotions boosted sales significantly. For instance, customers who enrolled in Amazon Prime program — which costs $79 per year and gives customers unlimited, free two-day shipping — spent more during the holidays and throughout the year, Bezos said.
Still, investors seemed more focused on the profit question, driving Amazon shares lower in morning trading Friday by nearly 5 percent, to $36.92.
Those investors are looking past Amazon's upbeat outlook, which calls for sales of $2.85 billion to $3 billion for the first quarter — the high end representing 32 percent growth. For the full year, Amazon said it will sell between $13 billion and $13.7 billion worth of goods, for a full-year growth rate of 21 to 28 percent.
Both outlooks were higher than analysts had predicted.
Searching for an Identity
Although carrying the profit profile of a traditional retailer, many of Amazon recent initiatives have transformed it into more of an Internet play. For instance, it has launched an aggressive foray into the Web services business, offering storage space on its servers for use by Web developers.
In addition, it has launched an Internet search engine and, in one of the major pushes during 2006, became involved in selling movie downloads via its Amazon Unbox service.
However, the company offered little insight into the financial performance of the video service. According to Bezos, Unbox is proving to be a popular online source of old TV series and hard-to-find films. Also, Amazon is working on enhancements to Unbox, Szkutak suggested. "I encourage you to stay tuned," he said.
Not one to shy away from promoting new offerings heavily, Amazon recently launched Endless, a shoe and handbag site that offers free overnight shipping, a return policy that is good for up to one year and a price guarantee. The site also offers a $5 cash rebate on all purchases through the end of February.
Over time, online merchants will need to begin to move away from both steep discounts and heavily subsidizing shipping costs, Forrester Research analyst Carrie Johnson told the E-Commerce Times.
"Most online shoppers say they buy on the Internet because of the convenience factor, and that's what e-commerce will have to rely on long-term to differentiate itself," Johnson said.
Room to Grow
Recent outlooks and results from Amazon and eBay suggest that despite the maturation of the e-commerce sector, major players still have room to grow and innovate, according to JupiterResearch analyst Patti Freeman Evans. "There's still excitement about the direction e-commerce is moving," she told the E-Commerce Times.
What is the challenge for Amazon going forward? Being competitive on price. Though its direct sales approach offers increased cost savings compared with most brick-and-mortar retailers who have higher overhead, Amazon now competes directly with Best Buy, Wal-Mart and other big-box stores that offer steep discounts in order to get shoppers into the stores.
Meanwhile, Amazon also announced on Thursday that it had sold a record number of pre-orders of the seventh and final installment in the "Harry Potter" series of novels, which will be released in July. It has been pre-selling the book for roughly half the $35 cover price.