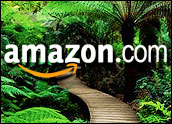 After years of speculation and preparation, Amazon.com launched itsdigital music store Tuesday, debuting Amazon MP3 and promising a wide selection of music unfettered by DRM (digital rights management) restrictions.
The Seattle-based e-tail giant launched what it's calling a publicbeta of the download store with 2 million songs available from 180,000 different artists — all without digital rights management restrictions.
Given Amazon's massive customer base, its reputation for creating winning shopping experiences and the DRM-free nature of the music, the e-tailer's download offering may be in the best position yet to give Apple's iTunes Music Store a run for its money.
Lower Prices
Amazon MP3 has already been through "extensive private beta" testing, noted Bill Carr, Amazon's vice president for digital music, adding that the site will be refined and improved based on feedback received during the public trial.
The MP3-formatted music will play on all PCs and a variety of portable music players, including Apple's iPod and Microsoft's Zune, as well as on the iPhone, on BlackBerry devices and on Motorola's Razr phones.
Some of the songs on Amazon MP3, including the 100 most popular tunes, are priced at 89 US cents — a dime lower than the price for most copy-protected songs on iTunes, where some songs are now available in DRM-free formats for $1.29. Albums start at just $5.99.
The site is integrated into the Amazon store, enabling users to purchase music with the merchant's one-click checkout service. Amazon is also offering a downloader tool that is meant to help users add music to their iTunes or Windows Media Player music libraries.
Free at Last
The site's selection is somewhat limited because — of the major labels — only Vivendi and EMI have signed on to make their music available without DRM restrictions. Other labels say they can't embrace DRM-free sales yet, out of concern that piracy would increase.
Amazon joins a long list of Internet companies to have taken a run atthe dominance of the iTunes Music Store. Most have fallen short, though subscription plans such as those offered by Napster and Real's Rhapsody have gained some traction.
A major limitation on other sites is that they have not been readily compatible with the iPod, by far the most dominant portable music player in the market. By enabling its downloads to play on the iPod, Amazon may be creating the best opportunity yet to balance the playing field in online music — something the music labels themselves are eager to do, JupiterResearch analyst David Card told the E-Commerce Times.
iTunes continues to dominate digital music sales, accounting for 70 percent of all paid downloads in 2006, according to sales data from the NPD Group, and according to Apple's own numbers the site has sold more than 3 billion songs since it went live in 2003.
That level of dominance is a concern for the labels, which worry Apple will be able to set the terms of music distribution.
That tension has been underscored by the negotiations between Apple and Universal Music Group, which has threatened not to renew its contract with iTunes.
Amazon also brings experience selling music — in CD form — and other media, with its Unbox site offering digital movie downloads since late last year, Card noted. It also sells a range of MP3 players, offering plenty of opportunities for cross-promotions.
"Amazon knows how to sell music," Card said. The challenge will be for the e-tailer to build a store that rises to the level of its other retail offerings and matches or exceeds the capabilities of iTunes. "It's safe to assume the music-buying experience at Amazon will get richer over time," he added, as Amazon leverages innovations such as user and editorial reviews and finds ways to recommend new music to customers.
Helping Hand
The launch could also mark the beginning of the end of DRM-protected music. Though some labels continue to resist, the trends are unmistakable, with DRM-free music now widely available. In August, Wal-Mart said it would offer songs from Universal Music Group free ofcopy restrictions and capable of being played back on almost any MP3 player.
Even though DRM software tying the iPod to iTunes and vice versa has helped Apple rise to dominance in the digital music world, Apple CEO Steve Jobs has called on music labels to drop such restrictions altogether.
As Amazon's store grows, all industry eyes will be on EMI, the first label to let both iTunes and Amazon sell DRM-free versions of its songs. Earlier this year, EMI said it was seeing strong growth in digital downloads and no discernible spike in piracy.
Ironically, Apple may have paved the way for the Amazon store by pressing the labels on DRM, Yankee Group analyst Mike Goodman told theE-Commerce Times.
"Amazon has been reluctant to open a store in the DRM era and the changes in the landscape made it possible for it to open this store," Goodman said. "The test now will be to watch sales and piracy. If things don't fall apart for the labels, that will suggest DRM has outlived its usefulness."
Amazon's move into the music biz has been a long time in coming. Over the summer, Amazon said it would invest in a social networking music site. AmieStreet.com sells music for a sliding fee, based on how popular it is, and lets users earn downloads by recommending popular music.