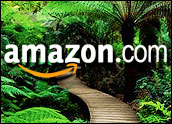 Arming for battle in the digital music space, Amazon.com has investedin a startup that attempts to blend digital music sales with socialnetworking.
AmieStreet.com, a digital music store that prices music based on itspopularity among visitors to the site, said Amazon was the lead investor in its first round of outside funding.
The terms of the investment and the amount Amazon sank into the New York firm were not disclosed.
Amazon shares, which have more than doubled in value over the past year, moved higher by 1 percent in afternoon trading Monday to US$77.51.
Customers Influence Price
"AmieStreet has a very smart and innovative team," said Jeff Blackburn, Amazon's senior vice president for business development. "The idea of having customers directly influence the price of songs is an interesting and novel approach to selling digital music."
Three students at Brown University founded the year-old startup. The site offers independent artists a chance to post their music to the site. Initially, songs are available for free but rise in price as they gain in popularity.
Members who make recommendations are also rewarded with store credit when songs they pick out sell faster. All songs sell for no more than 98 cents.
'Social and Fun'
AmieStreet grew out of an effort to "make buying music social and fun," said Elliott Breece, the company's cofounder and CEO. The result is a "music marketplace where consumers decide what is popular and what music is worth," he added.
The startup is launching a new wave of music on the site in conjunction with the funding round, which also involved some private investors. AmieStreet is adding songs from independent music labels such as Audio Bee, Daptone Records and Nettwerk Music Group to its existing menu.
Seventy percent of the revenue AmieStreet earns from each song goes directly to the artist or label that posts themusic, it said. The firm has not said whether it is profitable.
Digital Downloads
Amazon has long been seen getting into the digital music download business but has largely tiptoed toward the market, even as it added a slew of other offerings — including movie downloads — to its now-sprawling online marketplace.
More than a year ago, Amazon commissioned a consumer study to gauge interest in various types of digital download offerings, such as whether consumers preferred a pay-per-song approach or a subscription model, and hired a person to oversee music storefront.
"Amazon has long sold the most music online in CD form, so it makes sense for them to be in the digital download business," JupiterResearch analyst David Card told the E-Commerce Times. The long delay since rumors first started surfacing some four years ago of a download store within Amazon reflects the complexity of such as move, he added.
The social networking element could blend well with Amazon's existing retail strengths, including features such as consumer reviews and product recommendations based on a shoppers' past purchases, he added.
Coming Soon
Earlier this year, Amazon said its digital music site would be ready by the end of the year. It has not updated that time frame, but reports have suggested it has held lengthy discussions with record labels. So far, Amazon has a deal in place with only one of the major record labels — the UK's EMI Group — as well as a number of smaller independent music publishers.
It's not clear whether the sliding price concept would be one backed by major record labels, though some labels have pressured Apple to move off its all-songs-for-99-cents stance. For instance, some labels have suggested charging more for newer releases or suggested bundling music with other products, such as music videos, to help boost revenue and profitability from digital downloads.
Labels may also be balking at Amazon's promise to open a DRM-free music store. Currently, only EMI allows iTunes to sell its songs without DRM (digital rights management) protections and labels may want more protections from Amazon.
Now's the Time?
Meanwhile, now may be the time for Amazon to launch a music store because its overall business is performing well, ThinkEquity analyst Edward Weller told the E-Commerce Times.
"Amazon is gaining market share and its investments are paying off," Weller said, noting that even risky moves such as shipping discounts appear to be working for the e-tailer.
That backdrop of success, which is seen continuing into the current quarter thanks to the July release of the last installment of the Harry Potter series, may offer Amazon a solid launching pad for a music download venture, Weller added.
In addition to the music investment, Amazon also on Monday said it was testing an online payment service being positioned as an alternative to eBay's PayPal and Google Checkout. The system, one of several Web services Amazon has in the works, allows for micro-payments of just a few cents, could be a key part of an Amazon music store.