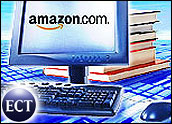 Amazon.com is giving Web developers free access to data and technology to help them build applications for the online retailer's customers and sellers on its six global Web sites, the company said today.
"This release is a direct response to feedback from our growing developer community," Andy Jassy, Amazon vice president of Web Services, said.
"Some developers already have applications that they want to extend to include Canada and France, while others have creative ideas that target customers from those countries. This release addresses those needs and will hopefully enable even more success and innovation by developers."
Integrating for Profits
Amazon's E-Commerce Services (ECS) is aimed at providing more applications for the company's Web sites in Canada, France, Japan, the United Kingdom, the United States and Germany.
Amazon.ca for Canada and Amazon.fr for France are good examples of developer innovation that could be in store for a wider audience. These sites already accept the currencies of their countries, offer free shipping on orders over $39 CDN and 20 EUR, respectively, offer shipping from locations that provide faster delivery times, use the countries' languages, and feature English and French-language media products.
The release of ECS for Amazon.ca and Amazon.fr means developers can further innovate and make money by building applications specifically for these sites or broader applications that integrate all Amazon-branded sites worldwide.
For example, developers could earn a referral fee as an Amazon Associate when users of their sites make purchases on any Amazon site. Developers could also more effectively price their products for sale on any Amazon Marketplace.
Easier Use
"The chance to open up Inside Messenger to all of Amazon's sites and customers around the world is a big opportunity for my business," said independent software developer Riaan van Schoor, who participated in the ECS beta for Canada and France.
"Anyone can now use Inside Messenger to shop any Amazon site with the major instant messaging networks, and I receive a referral fee when they make their purchase with Amazon," Schoor said.
Of course, it's not all about giving developers the ability to make money. Jupiter Research retail analyst Patti Freeman Evans told the E-Commerce Times that this move is similar to eBay's model, which opened up opportunities for developers to innovate applications that made it easier, faster and more cost effective for consumers to access the online auction giant's site.
"The easier Amazon makes it for people to access its selling environment, the more people will shop there," Evans said. "This is a very interesting way to tap into the very talented developer market and let them spread their wings to develop unique shopping environments. Then Amazon and the rest of the retail community can watch how these applications work and take advantage of them."
Taking Over the World
Could there be cultural, language and other challenges along the development path that spans the globe? Sure, Evans said, but presumably developers would first develop within their own language, in their own country, in their own culture before rolling out applications to other regions of the world.
Online retailing is growing like gangbusters stateside. As for whether this new program might position American e-tailers to dominate e-commerce worldwide, Evans said it is far too soon to predict the long-term impact of such a program, but the retailing world will be watching.
"This program allows developers to create unique experiences that could really take online retailing in a new direction," Evans said. "I don't know what that direction is, but it's possible that having some very creative non-corporate brands thinking about these things could be interesting. Amazon and eBay have a pretty strong leg up already."