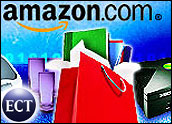 Amazon.com, the owner of the "1-Click Shopping" patent, is no stranger to either side of patent infringement battles. Now it finds itself in yet another dispute, this one against Cendant Publishing.
Cendant filed suit in U.S. District Court in Wilmington, Del., Oct. 29 against the e-commerce giant claiming that Amazon is using Cendant's patented process for making recommendations to customers based on similar purchases made by other customers. In other words, when you buy The DaVinci Code by Dan Brown on Amazon and a screen pops up that says "Customers who bought this item also bought…," Amazon is infringing on Cendant's process patent, the company claims.
Broad Claims
Aaron C. Chatterjee, a patent attorney at the law firm Foley & Lardner told the E-Commerce Times, that the patent — "System and Method for Providing Recommendation of Goods or Services Based on Recorded Purchasing History" — makes extremely broad claims.
"I'm pretty sure Amazon is infringing on the patent," Chatterjee said.
He added, however, there is hope for Amazon, because "the possibility of prior art is fairly substantial." Prior art means that the process or technology that has been patented was in use by other companies before the patent application was filed. There are many "business processes" that existed before the Internet, but the patent office has tended to issue patents on such processes to Internet companies as if they were completely new ideas.
Cendant filed its application Sept. 4, 1997, and the patent was granted in August after being rejected twice and approved on appeal.
"Theoretically it [evidence of prior art] could be a brick and mortar process, but I think it would be much better prior art if it was on something that was on a computer. However, there is nothing that requires this to be on the Internet. It could be a process someone used in the '70s on a mainframe," Chatterjee said, adding that this kind of database- and labor-intensive system probably would not have been done very much before innovations such as CRM software. If Amazon can prove that the recommendation function was an Internet process prior to Cendant's patent being issued, it stands a better chance of success.
Wider Implications
Amazon is far from the only retailer to use this type of recommendation system. Cendant said it tried to negotiate with Amazon on licensing fees, but was rebuffed. Cendant may be going after Amazon, figuring if it can beat the company with the big pockets, others are likely to fold.
Cendant has asked for a jury trial and that Amazon be made to stop infringing. However, Chatterjee said that 50 percent of patents that end up in court are invalidated and the broader the claim the more likely it is to be invalidated. That means a win by Amazon could help its competitors by freeing them to use the process without fighting the battle.
Cendant, which owns the hotel chains Days Inn and Super 8, real-estate companies Coldwell Banker and Century 21 and is buying Orbitz.com, the travel reservations system, did not ask for specific damages in the suit.