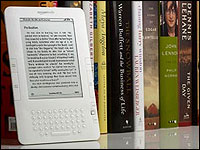 Amazon.com launched a free e-book lending library for Kindle on Thursday. The library is open to Amazon Prime subscribers and includes over 5,000 books that users can borrow for free. The list includes hundreds of current and former New York Times bestsellers.
Books can only be borrowed and read on actual Kindle devices, rather than Kindle apps running on other kinds of devices. Borrowed books will not be available on Kindle reading apps for phones, tablets or computers. Users are able to borrow one book per month. The book can be kept on the Kindle until a new book is borrowed.
The service is included with the US$79-a-year Amazon Prime service which also includes free two-day shipping and a 13,000-strong movie and television streaming service.
The Wall Street Journal reports, however, that none of the six largest U.S. publishers are participating. Executives at the publishers told the Journal that they were afraid the service could hurt future sales of books or harm relations with other retailers.
Amazon also began working with public libraries in September to allow them to loan out e-books that can be read from all Kindle apps. The Internet giant is set to ship the Kindle Fire tablet on Nov. 15. The tablet is a direct competitor to the iPad.
Free Books? Buy a Kindle
The lending library is a new move for Amazon and a first for the industry. Free books could make the Prime subscription more attractive as well as making the Kindle more of a value.
"I think this is another savvy move by Amazon," Tom Mainelli, research director for mobile connected devices at IDC, told the E-Commerce Times. "Amazon continues to add not only new content — including books, magazines, movies, music and apps — but new ways to access that content from its branded hardware devices."
Amazon, Mainelli noted, is leveraging its Prime service to attract customers from its traditional service — selling physical goods — over to the selling, or in this case lending, of digital goods.
Whether this reaches traditional customers or digital customers, it's a real bonus, noted Mainelli.
"I suspect a lot of Kindle owners are already Prime members," said Mainelli. "So they will feel like they're getting something for free. It makes Kindle owners who aren't Prime members more apt to sign up for Prime, and it will make Prime members who don't own a Kindle more likely to buy a Kindle."
Most important, noted Mainelli, it gets people reading more e-books. "I'm sure Amazon feels that lending one book per month is likely to get people to buy more books in the long run."
New Offer, New Strategy
This is the second big offer to Prime members recently.
"I think this is an evolution of Amazon's strategy," said Mainelli. "A short while back they started offering Prime members the ability to stream a selection of movies as part of that subscription.
"Just like movies, books tend to be something people view or read once, so offering customers the ability to access these books as part of the Prime service makes sense," said Mainelli. "It could very easily be the predecessor of a rental model where people pay less to rent a book for a certain amount of time than they'd paid to buy it outright."
Good Move for Bezos
In the increasingly competitive book market, Amazon has just given its customers a big benefit.
"I think it's a good idea, a good differentiator, a good go-to-market," Laura DiDio, principal analyst at ITIC, told the E-Commerce Times. "The publishing industry is going through a revolution. If you're Amazon and you look around, you have to run hard to stay abreast and stay ahead of your competitors. This move shows that Jeff Bezos is not going to be left behind."
Ultimately the lending library can boost Prime memberships as well as Kindle sales.
"Jeff Bezos is taking the initiative, and it's a nice little perk," said DiDio. "The same reason you might go from an American Express green card to a gold card with the perks."