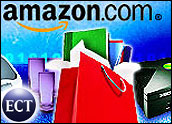 In a week when the stock market dipped wildly and WorldCom filed for bankruptcy, Amazon's US$94 million net loss for the second quarter of 2002 paled in comparison.
The loss actually represented an improvement over the e-tailer's year-ago second quarter, in which it posted a net loss of $168 million. But it was considerably worse than the first quarter of 2002, when Amazon posted a net loss of $23 million.
Mark Peek, vice president and chief accounting officer at Amazon, said in a conference call with analysts that the company "was pleased with the quarter" but understands that "there is a whole lot to do" to get Amazon onto a profitable track.
Striking a Balance
"Amazon has done a pretty good job of reinvigorating its growth withouthurting its profits too much," David Kathman, an analyst withMorningstar.com, told the E-Commerce Times.
In the heyday of e-commerce, the company was focused primarily on getting asmany customers as possible, then set its sights on reducing costs. Now,Kathman said, the challenge is to strike a balance.
He noted that the company, with its penny-per-share pro forma loss, "didbetter than expected," beating First Call predictions.
Cash Improvements
Amazon's cash flow improved to $16 million for the past four quarters, compared withnegative cash flow of $270 million in the four quarters ended in June 2001.
The company also booked an operating profit of $1 million, compared with an operating loss of $140 million in the same period last year. Net sales rose to $806 million from the $668 million posted in the second quarter of 2001, an upswing of 21 percent.
Amazon founder and CEO Jeff Bezos praised the company's book division but noted that, like other e-tailers, Amazon has found the music business "challenging."
Reducing Prices
In June, Amazon reduced prices on CDs, DVDs, electronics and tools, marking the fourth time the company has lowered prices in a year.
Previously, the company had pared book prices by 30 percent for books costing more than $20 in July 2001, followed by an offer for the same percentage discount on books costing more than $15 this spring.
Amazon also introduced a Free Super Saver Shipping option at the beginning of this year, which applied to orders totaling more than $99 and later was broadened to cover orders totaling more than $49.
Efforts Paying Off
The company's efforts apparently paid off. Bezos acknowledged that the U.S. Books team posted "another quarter of 20 percent year-over-year book unit growth, up from 15 percent growth this past fourth quarter."
The company's book, DVD and CD segment sales increased by 6 percent to $412 million during the period. Pro forma operating profit also ballooned 26 percent to $49 million, or what Amazon says is a record 12 percent of its book, music, DVD and video sales.
Amazon noted that shipping profit was about $2 million, which represents an improvement over the $2 million loss previously reported. The company is continuing to evaluate its shipping strategy and said shipping promotions are a tremendous lure for customers.