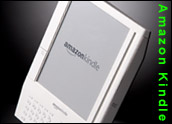 After a brief protest late last week, Amazon now says it will give in and sell e-books from Macmillan at the higher prices the publisher has requested.
"Macmillan, one of the 'big six' publishers, has clearly communicated to us that, regardless of our viewpoint, they are committed to switching to an agency model and charging (US)$12.99 to $14.99 for e-book versions of bestsellers and most hardcover releases," the Amazon Kindle team wrote in a note to customers in the Kindle Community forum on Sunday afternoon.
Most Amazon Kindle e-books are priced closer to $9.99.
'We Will Have to Capitulate'
Amazon initially pulled Macmillan books from its virtual shelves to protest the price increase, but the move was short-lived.
"We have expressed our strong disagreement and the seriousness of our disagreement by temporarily ceasing the sale of all Macmillan titles," the note read. "We want you to know that ultimately, however, we will have to capitulate and accept Macmillan's terms because Macmillan has a monopoly over their own titles, and we will want to offer them to you even at prices we believe are needlessly high for e-books.
"Amazon customers will at that point decide for themselves whether they believe it's reasonable to pay $14.99 for a bestselling e-book," it added.
Amazon doesn't believe that all of the major publishers will follow in Macmillan's footsteps, it said.
Nevertheless, its stock was down almost 8 percent to just over $115 per share in Monday morning trading.
'I Regret This Impasse'
Macmillan CEO John Sargent met with Amazon last Thursday to discuss the disagreement.
"I gave them our proposal for new terms of sale for e-books under the agency model which will become effective in early March," Sargent wrote in a Saturday post on Publisher's Lunch. "In addition, I told them they could stay with their old terms of sale, but that this would involve extensive and deep windowing of titles.
"By the time I arrived back in New York late yesterday afternoon they informed me that they were taking all our books off the Kindle site, and off Amazon," he added.
"I regret that we have reached this impasse," Sargent asserted. "Amazon has been a valuable customer for a long time, and it is my great hope that they will continue to be in the very near future."
Deja Vu All Over Again
Under Macmillan's agency model, retailers such as Amazon act as agents of the publisher and earn a 30 percent commission, Sargent explained. Macmillan's plan is to price the digital editions of most adult trade books between $5.99 and $14.99, with most first releases priced between $12.99 and $14.99.
"The agency model would allow Amazon to make more money selling our books, not less," he added. "We would make less money in our dealings with Amazon under the new model. Our disagreement is not about short-term profitability but rather about the long-term viability and stability of the digital book market."
Under most Kindle arrangements, the publisher and Amazon split revenues equally, Susan Kevorkian, program director for IDC's mobile media and entertainment service, told the E-Commerce Times.
'A Bigger Piece of the Pie'
Indeed, the dispute is reminiscent of one that arose in the music industry during its transition from analog to digital distribution, Kevorkian said.
"As the digital channel becomes more central, we're going to see content owners who, because they have copyrights, have more power in the equation," Kevorkian predicted. "That means that a content provider that has a de facto monopoly over a particular book edition or piece of music can determine how it wants to sell that title."
Another trend that seems to be common as such conflicts play out is that content owners are looking for "a bigger piece of the pie," and also defaulting to traditional models of distribution, Kevorkian noted.
The Apple Effect
"Here, Macmillan is trying not only to raise prices so more money is coming in from each consumer purchase, but it also wants to keep a higher percentage of the proceeds," she explained.
At least some of Macmillan's new assertiveness likely stems from the recent launch of Apple's new iPad, which offers e-book capabilities and more, Kevorkian asserted.
"Now that Apple has come to the party, Macmillan has more leverage with Amazon," she explained.
'People Will Vote With Their Checkbooks'
In fact, Macmillan's agency model will closely resemble the deal Apple offers publishers, she added.
Of course, Amazon has traditionally positioned itself as a discount provider, whereas Apple typically takes a premium line, noted James Brehm, senior consultant for mobility and the unwired experience with Frost & Sullivan's information and communication technology practice.
How consumers will react, meanwhile, remains to be seen.
"The market is growing tremendously," Brehm told the E-Commerce Times. "People will vote with their checkbooks."
More Disputes to Come
In a Kindle Community discussion thread entitled "Boycott anything over $9.99," in fact, more than 7,000 posts had already been made by early Monday afternoon — most of them supporting Amazon's stance.
Either way, however, as digital books become more popular, there's more incentive for publishers to make works available electronically, and there's also more incentive for retailers to offer those titles, Kevorkian pointed out.
"We expect to see more of these types of disputes," she concluded.