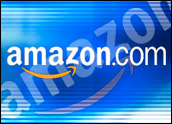 Amazon.com doubled its fourth-quarter profit as international sales fueled growth, but the e-tailer's outlook raised questions about its continued reliance on discounting as it expands into new markets and product categories.
The company met analyst expectations for fourth quarter earnings with net profit of US$207 million, or 48 cents per share. It also surpassed revenue targets, bringing in $5.67 billion in revenue, up 42 percent from the year-before level of $3.99 billion and well above analyst estimates of $5.37 billion.
International sales grew 46 percent in the quarter to $2.59 billion, Amazon said, while sales in North America grew 40 percent to $3.08 billion.
Bullish News
The e-commerce pioneer also managed to issue a stronger-than-expected forecast, a possible sign that its overseas growth — more than half of its sales now come outside the U.S. — will cushion it from any recessionary conditions in the U.S. Amazon forecast first-quarter sales of $3.95 billion to $4.15 billion, ahead of analyst projections of $3.92 billion. For the full year, Amazon expects sales of $18.75 billion to $19.75 billion, well above analyst expectations of $18.45 billion.
Despite the bullish news, investors sold off Amazon shares in after-hours trading, sending it lower by nearly 10 percent. In morning trading Thursday — after Amazon announced it was buying digital audio book maker Audible.com for $300 million — the stock was down only 2 percent to $72.70 and rose to around $74 by midday.
Chief Financial Officer Tom Szkutak declined to comment in a conference call on the possibility of a consumer slowdown in the U.S. and how that might impact Amazon's results.
"In terms of the economy, what we are seeing is that our business is doing fine," he said.
Looking Past Growth
While the growth forecast bucked recent trends, investors seemed to focus on Amazon's continued struggles to boost its profit margins. Margins actually fell in the fourth quarter compared with the year before, which CEO Jeff Bezos said was due in part to the popularity of Amazon's prepaid shipping discount programs.
For the coming year, Amazon said it expects operating income of $785 million to $985 million, while analysts were calling for more than $1 billion.
Entering new categories, something Amazon has done aggressively over the years, eats into profits, by requiring it to be competitive on price to drive traffic to its new offerings, Szkutak noted. Only after it has built up sales volume in a product category can it start to negotiate discounts with suppliers.
"Being able to afford to lower prices is difficult, and we have been working on that for many many years now, and we expect to continue to work on it for our entire corporate existence," Bezos said.
'A Long Process'
"Amazon has been competing on price and they've had tremendous top-line sales growth, but the margins have taken a beating," JupiterResearch analyst Vikram Sehgal told the E-Commerce Times. "They've tried to mitigate that by offering additional and different categories, but it's proven a little harder than previously thought to graduate consumers across multiple categories. They've had some success, but it's a long process."
Amazon's frustration is being mirrored by the e-commerce sector overall. Over the past five years, the number of categories the average online shopper buys from has grown only modestly, from 4.2 categories to 4.7. "The number of categories has generally remained more or less the same even though the earlier hypothesis was that people would start to buy a lot more across a lot more different categories once they got comfortable," the analyst added.
Still, Amazon is well-positioned even as online sales growth overall is expected to slow — Jupiter is forecasting that e-commerce growth will drop to single-digit annual rates by 2011. "People trust Amazon with their credit card information and trust that they're going to get what they buy," Sehgal added.
Kindling Audible Excitement
Amazon's recent new product release of the Kindle e-book reader performed better than expected, it said.
"The Kindle is outpacing our expectations," Bezos noted, adding that Kindle was built with additional capabilities, including a Web browser and the ability to connect to other Amazon Web services.
Amazon did not disclose specific sales figures for the Kindle or for its MP3 download site, to which it has managed to attract all the major record labels.
Meanwhile, Amazon's purchase of the digital audio book firm Audible.com will enable it to offer even more content for the Kindle and other mobile media players, the company said.
Protecting Future Business
Amazon may have been motivated by the early sales of the Kindle, which the e-tailer said it was finding it a challenge to keep in stock.
Amazon needed to be in the e-book reader business to protect its future business, Forrester Research analyst James McQuivey told the E-Commerce Times. While readers aren't clamoring for e-books just yet, publishers and retailers are interested in alternative delivery methods for content, and eventually more advanced electronic paper technology will create more book-like products.
"Amazon needs to be out front so it's not playing catch-up down the road," McQuivey said.
With Audible, Amazon is also getting an additional digital version of one of its main products: books. If it is able to move more buyers to digital delivery, it could boost margins by eliminating the need to handle and ship items, he noted.