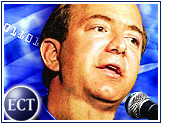 E-tail bellwether Amazon (Nasdaq: AMZN) beat analysts' second quarter bottom-line estimates by two cents per share, but the results still failed to reassure investors.
The online retailer said its loss rose to $115.70 million (US$) in the second quarter, in comparison with a loss of $82.79 million in the same period last year. While the company's revenue reached $578 million, analysts had expected better results.
On the positive side, customer accounts rose by 2.5 million during the quarter, totaling more than 22.5 million by quarter's end. Repeat orders made up 78 percent of the total, up from 70 percent a year earlier, and its book and video sales are finally yielding profits.
Focus on Profit, Not Growth
Yet customer growth was not as strong as expected, said Goldman Sachs analyst Anthony Noto, who thought the company had added 2.7 million customers in the quarter. Amazon, which attained its position as the top online retailer through rapid expansion, is now concentrating on moving toward bottom-line profitability.
"Management focused on achieving operating income targets in lieu of additional revenue growth," said Noto, who had been looking for revenue of $590 million to $600 million.
Report Sends Shares Lower
Amazon shares plunged in aftermarket trading after the results were released late Wednesday. Earlier in the day, the stock took a big hit when Lehman Brothers analyst Holly Becker cut her rating on the company, reportedly saying the shares were overpriced. An outage at the site Wednesday also spooked investors, reports said.
Also weighing on the stock was the resignation of President and Chief Operating Officer Joseph Galli Jr., who two days ago said he was leaving to become president of VerticalNet, a B2B trading network. Amazon closed Wednesday at 36 1/16, down 1 9/16.
Electronics, Books Divisions Post Gains
Amazon's electronics division posted the biggest gain during the quarter, the company said, without providing figures. U.S. book, music and DVD sales totaled $385.28 million, and the division posted a pro forma operating profit of $10.06 million.
Chief Executive Officer Jeff Bezos said the company is on track to achieve its objectives for the year. "We are especially pleased with the profitability in our U.S. books, music and video group and the unusual growth in our electronics store," Bezos said.
Amazon expects to end the year with about $1 billion in cash, said Chief Financial Officer Warren Jenson. "We continue to expect pro forma operating losses in the single digits as a percentage of sales by the fourth quarter of this year, and strong year-over-year sales growth," he said.
Goldman Cuts Estimates
Goldman Sachs' Noto cut his estimates for Amazon's revenue and earnings this year and next, lowering his revenue target for 2000 to $2.76 billion from $2.83 billion, and revising his bottom-line forecast to a loss of $1.26 per share from $1.20.
"Management's prudent strategy to steer away from driving growth at any cost and to focus on profitability leads us to make a more conservative outlook for revenue growth" in the third quarter, Noto wrote.
Noto maintains a "trading buy" on Amazon shares, saying the company could gain from new ventures, despite a soft environment for e-commerce.
Amazon started as an online bookseller in 1995, and has since expanded its offerings to include hardware, kitchen products and a host of other items. It also has stakes in several specialty e-tailers, including auto site Greenlight.com and discount sporting goods seller Gear.com.