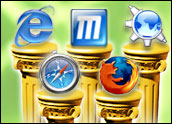 Microsoft continues to lose browser market share to open-source competitors, according to market researcher WebSideStory. Firefox, Opera and Apple's Mac-only Safari are vying for second place in a space that Microsoft's Internet Explorer still dominates.
IE's market share dropped 1.5 percent to 90.3 percent between the beginning of December and mid-January, according to the study. The Mozilla Project's Firefox rose 0.9 percent to secure a full 5 percent share of the market. Opera and Safari each gained just under 1.0 percent of the market share.
Momentum Building
The new report illustrates the steady decline for IE, which has been falling since last June, and the steady rise of Firefox. Firefox snatched an extra 1 percent of the market in just a month, and analysts said the momentum is building, with almost 20 million Firefox browsers downloaded worldwide in the last 10 weeks.
"As with anything else, once something gains traction, the masses will follow," Jason Dowdell, manager of search technologies at Internet marketing solutions firm WebSourced, told the E-Commerce Times.
"When Firefox reaches the 12 to 15 percent market share range, it should start gaining 2 to 3 percent market share a month. People will begin to realize that they can do with Firefox anything they can do with IE."
Dowdell said online products, like browsers and search engines, become popular first with the "techie crowd" and, if they gain enough market share, eventually get noticed by the mainstream media. That exposure then drives the momentum to make the product a mass market success. Dowdell said Firefox is well on its way, thanks to a grassroots movement dedicated to propelling it into the spotlight.
Mass Media, Mass Market
That grassroots movement Dowdell mentioned was responsible for funding a two-page spread in the New York Times last month that asked readers the direct question: "Are you fed up with your Web browser?" The group is called Spread Firefox, and it's a volunteer-run Mozilla advocate with 10,000 members.
"When there are 10,000 members willing to give of their own finances to support software that's being developed by two people, it is prettyimpressive," Dowdell said. "I don't think Firefox will have that burst of media attention and go away. I think it will just continue to get stronger."
Rumors abound about Microsoft's IE. Some blogs report that Microsoft is not concerned about the loss of marketshare because it is yet a small fraction of the customer base. Other bloggers say there is not a new version of IE planned for at least one year, which would give Firefox nearly 20 percent of the marketshare at this growth rate.
Longhorn Beta?
Other bloggers predict Microsoft will soon release a beta version of Longhorn and issue a new IE version in that bundle. Still others are betting Microsoft will open up some parts of IE to developers so they can build their own extensions without having to purchase licenses.
Microsoft was not immediately available for comment, and it remains unclear how and when the software giant will respond to the losses. However, one thing is certain: The browser wars are just getting hotter with Firefox and other alternatives making their moves against the browser Goliath.