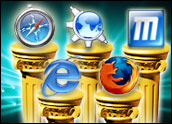 Usage of Microsoft Internet Explorer continues to fall in the United States, dropping 1.09 percentage points to 91.80 percent of the browser market between November 5 and December 3, more than triple the rate of loss of the previous month, a study shows.
Meanwhile, over the past month, the U.S. browser usage share of Firefox, the upstart Mozilla-based browser that has become a champion of the open-source movement, has grown by more than a third, the latest independent study from WebSideStory, a provider of on-demand Web analytics, shows.
According to the study, for the one-month period from November 5 to December 3, Firefox's usage share grew from 3.03 percent to 4.06 percent. This compares to a gain of 13 percent during the previous month, from October 8 to November 5.
"Firefox's gains are clearly accelerating," Rand Schulman, chief marketing officer for WebSideStory, said. "Much of it has to do with the release of Firefox's version 1.0 on November 9, after several months of offering a preview version. Firefox's stated goal of gaining 10 percent of the market over the next year no longer seems unattainable."
Perception Is Reality
Since June 4, when IE's usage share first began to drop due tosecurity concerns, IE has lost a total of 3.68 percentage points. It's 1.09 percent loss in the November period compares to a loss of 0.32 percent in October.
"There are two things that are driving people to look at an alternativebrowser," Michael Cherry, a lead analyst with Directions on Microsoft, told the E-Commerce Times. "First is the perception that alternative browsers may be less vulnerable to attack. The second is that Microsoft has not done anything to add new or creative features to its browser since it gained the large extent of the market share."
What does Microsoft have to do in order to stop the bleeding? Simply show people that its browser is secure and add in popular features like tab browsing that people want, Cherry said.
"Microsoft likes to talk about how innovative they are and how integrated their innovation is," he said. "In this particular segment of browsers, Microsoft doesn't appear to have been innovative for a while."
Opera Connection
Cherry said, However, that while the technology world is focusing on Microsoft vs. Mozilla, the Opera browser could be the ultimate victim in this round of the browser wars. Cherry said that Opera is more likely to take it on the chin than Internet Explorer.
"This is similar to the Linux battle," he said. "Everybody says Linux ishurting Microsoft. Initially, it appears that Linux is hurting Unix andcompanies like Sun. I worry that Opera is going to be collateral damage in this battle."
Microsoft and Opera could not immediately be reached for comment.