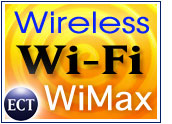 A leading wireless networking industry group is warning vendors not to push ahead too fast on the next generation of WiFi technology, a faster version that will enable a host of new features.
The WiFi Alliance said it would not certify features based on the 802.11n standards being developed by the Institute for Electrical and Electronics Engineers (IEEE) until the IEEE's standards are complete. That's not expected to happen for another two years, the group says.
The Alliance said it would reserve the right to revoke the WiFi Certification of vendors' products if they move too fast to introduce such features in a way that detracts from existing interoperability levels.
The group noted that 802.11n is still in the "pre-standards" phase and said it fears that consumers will be confused and misled by products released before the standard is finalized.
"Pre-standard products always present an inherent risk for technology adopters," alliance Managing Director Frank Hanzlik said. "That is why we will not certify 802.11n products until the IEEE standard is finalized."
At least one wireless vendor has begun to market a pre-standards version of the developing technology and others are likely to follow. In fact, analysts say some vendors might be willing to risk not being able to display the WiFi Certified logo in order to grab the early adopter portion of the market for better-developed wireless networks.
Compton, California-based Belkin Corp. recently announced it would have 802.11n products to market by the end of this month. Belkin said its products would offer "seamless compatibility" with older versions of 802.11 but with wider coverage area and speeds up to six times faster.
On the Cutting Edge
The Alliance is responding in part to concerns that have arisen in the past. For instance, when 802.11g was first developed, some vendors released products on that standard before it was finalized, resulting in some consumers buying products that ended up not being compatible with later versions.
Gartner analyst Ken Dulaney said those individual vendors risk hampering the overall industry and could actually slow the adoption of wireless technology by frustrating customers who buy products that aren't backwards compatible with earlier versions.
The emerging standards are expected to offer faster transmission of data, a clearer way of measuring data speeds and functions and features that enable data to be prioritized, so that capacity is dedicated to moving the most urgent information first. One draft version of the standards also includes a method of making the standard work with multiple platforms and regulatory settings.
Dulaney said while it's natural for vendors to want to be first to market with new products, consumers can suffer if standards change before they are finalized.
"Customers fully expect the technology they buy to work not only with older versions but also with other products in the same family down the road," he said. "If that doesn't happen, there's risk of delaying the development of the technology, instead of advancing it."
Patience Preached
One reason it's expected to take up to two years to finalize the standard is that there are competing versions before the task force charged with coming up with a draft.
One consortium of companies, under the banner of "WWiSE," includes Airgo Networks, Broadcom, Conexant Systems and Texas Instruments. A competing version, from a group dubbed Tgn Sync, is supported by vendors such as Atheros Communications and Agere Systems.
Yankee Group analyst Roberta Wiggins said while the faster speeds will appeal to corporations that are using bandwidth-demanding applications on wireless networks, most corporations will be willing to wait the extra 18 months to two years to get products they are confident will be interoperable.
"Some will grab the extra performance as soon as it's available, but most companies will wait and build the upgrade into their IT budgets and forecasts," she said.