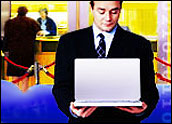 While corporate employees have enjoyed the benefits of WiFi (802.11) high-speed wireless networks for several years, consumers finally are gaining more widespread access to this technology as vendors install WiFi capabilities in airports, hotels and restaurants across the United States.
The main challenge faced by these vendors is economic, rather than technical, in nature. The consumer market is notorious for its bargain-seeking streak and unwillingness to pay high prices. Even so, several hardware and software vendors are targeting this vast, relatively untapped market, encouraged by the initial successes of such companies as Starbucks and McDonald's, which provide free WiFi access to customers.
"Our customers are telling us that offering the T-Mobile hotspot service at Starbucks enhances their experience in our stores," said Anne Saunders, vice president of marketing at the coffeeshop giant, in an interview with the E-Commerce Times. "We believe we are attracting new customers as well as enhancing the Starbucks experience for existing customers."
Red-Hot Hotspots
Despite economic concerns, the WiFi market certainly is not stagnant. Shipments to hotspots are expected to grow about 50 percent on a compound annual basis until 2008, when there will be approximately 1 million annual hotspot access point shipments, according to Oyster Bay, New York-based ABI Research.
Likewise, research firm IDC has estimated that in the next five years, network operators will install more than 55,000 hotspots in the United States; in contrast, by the end of last year, there were only 4,200 hotspots in the country.
Yet another report — this one released by IDG — found that more than 50 percent of notebook users tap into a wireless network for at least an hour each day.
"Everyone is getting into the space now," Edward Rerisi, director of research at ABI, told the E-Commerce Times. "In the end, [the winner will] be the company that can offer it as part of larger packages and [that] has the best locations."
Unlimited Potential?
With so much activity ongoing, it is not surprising that some developers are champing at the bit to tap into the WiFi market. Public IP Services of Pine Beach, New Jersey, has developed a solution specifically designed for small restaurants, hotels, laundromats and bars that want to differentiate themselves or encourage patrons to stay longer, said Scott Tully, president of the company, in an interview with the E-Commerce Times.
"We don't think charging for access will work," said Tully. "Once [WiFi] starts hitting the mainstream more and more — which it is now –once it really gets out there, business owners will start seeing the value of offering free Internet. It's a very inexpensive way of promoting your business."
The ISP charges businesses US$69.95 per month for hotspot access. The service includes Netopia's 3-D Reach 3347W ADSL wireless gateway, which features an ADSL modem, WiFi certified access point and Ethernet switch on one box.
This marks a new opportunity for Netopia, according to Larry Plummer, vice president of business development at that company. "We didn't wake up one morning and say, 'We want to strategize to be in the hotspot space,'" he said. "It was a tactical recognition that we had the right product at the right price. The issues are quite different and, quite honestly, the economics are quite different."
Challenging Buyers
As it turns out, the economics of consumer WiFi may be so difficult that another company, called AirMagnet, has decided to focus all of its attention on the deeper pockets and more technologically adept enterprise and government spaces, said Rich Mironov, AirMagnet's vice president of marketing. The Framingham, Massachusetts-based company has found that high-tech, education and government sectors have been quickest to deploy WiFi, followed closely by healthcare, manufacturing and telecom.
"We're selling something that is pretty necessary to the health and happiness of the corporate network executive who has to keep the WiFi network up and running," Mironov told the E-Commerce Times, referring to his company's line of analysis and management products, which patrol WiFi network perimeters for security and performance issues. "[In the consumer space], I think it's a real challenge to have a product in the short term that you can be profitable at. If you're targeting consumers or low-end SOHOs, the hardware business is a very difficult place to be."
As Advertised
Consumer-oriented hardware prices are being squeezed already. For example, Mironov said he recently spotted a WiFi box in a local electronics store for $29.95. And according to ABI's Rerisi, "Prices are dropping rapidly, like in every other technology."
But some players in the consumer WiFi arena are exploring alternate ways of garnering revenue.
Public IP customers will have the option of selling ad space on "virtual placemat" home screens, Tully said. For example, a local laundromat could choose to sell space on its placemat to nearby tire stores or diners. This revenue could offset the fee paid for its service. In addition, the ISP has an agent program whereby existing clients are paid for referrals.
Still, Rerisi said, "I've heard a lot of revenue opportunites. That's not where the big bucks are going to be made."
Going for the Gold
Some companies will definitely succeed in this market, according to analysts. Service providers such as T-Mobile are combining their cellular, hotspot and GPS offerings, Rerisi noted, and Verizon can meld its cellular and DSL capabilities. Other businesses, such as airports, large hotel chains and hospitality organizations, already have strong locations, he said.
Some of the benefits of providing WiFi service are intangible, according to industry experts. For example, Starbucks, perhaps the biggest initial backer of consumer WiFi, has not tracked whether the service attracts new clients or whether it caters to the image of a cutting-edge consumer.
"We began offering WiFi in our stores for two reasons: to continue to enhance the Starbucks experience, and [to] deliver on a high-quality solution to a frequent customer request for Internet access," Saunders said.
In the end, providing free WiFi service to consumers may not give a company a competitive edge, said Tully. Instead, it may be something that small businesses in a given vertical market must do to remain in the market at all.
Tully compared the current state of the WiFi industry with the early days of the hospitality sector, when a few far-seeing hotels offered "free air conditioning" and "free HBO." Those perks are now a given — and in a few years, WiFi may be on the must-have list as well.