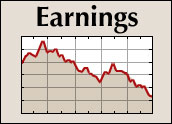 Alcatel-Lucent lost more than US$3.7 billion in the fourth quarter and predicted a soft market for its telecommunications gear for much of 2008.
The France-based company — created through a $13 billion merger in 2006 — also said it would not pay out a dividend to shareholders. However, the company did not announce additional layoffs, as had been widely expected.
Alcatel-Lucent reported a loss of 2.58 billion euros, or US$3.74 billion, in the fourth quarter, more than four times as large as its loss in the year-ago period. Much of the loss was tied to a write-down in the value of Lucent's wireless networking business.
A 'Transition Year'
The company did see growth, with revenue up 18.4 percent year-over to 5.2 billion euros, or $7.7 billion.
Chief Executive Officer Patricia Russo called 2007 a "transition year" for the company but did not put a time frame on reaching profitability.
The company has held the line on costs, however, keeping profit margins steady even as its revenue mix shifted to include more sales to emerging markets.
"We executed our integration plans in a difficult market environment," Russo said. "Notwithstanding these challenges, the performance of our wireline, enterprise and services business has been solid." However, "slower-than-expected ramp up of revenues" from emerging technologies such as next-generation wireless has "severely impacted profitability."
Seasonal Patterns
The Alcatel-Lucent merger came about amid widespread consolidation in the telecommunications industry that reduced the number of large customers the companies had for their products and services. The merger resulted in a sweeping reorganization that saw some 16,000 jobs slashed worldwide. Still, there has been speculation that more layoffs or other major changes could be on the way to help get the company back to profitability.
The company did not give a formal revenue or profit forecast, though it did say it would post a loss for the current quarter in part due to historical seasonal patterns that have seen sales drop significantly in the first quarter of each year.
"While the long-term prospects of our industry remain good, the macroeconomic environment has created uncertainty in our markets in the last few months," said Russo. Internal projections for 2008 show the demand for telecommunications equipment to be flat or down slightly, she added.
Investors are likely to give Russo only so much time to be able to show results from the merger and to prove that Alcatel-Lucent can compete with rivals such as Ericsson, Gartner analyst Martin Reynolds told the E-Commerce Times.
"The idea behind the merger was that it would make the company more competitive and, more than a year later, the results really aren't there," Reynolds said. "Timing is an issue, but even in a tough market, people expect results from a merger of this size."
Getting Ahead
The Alcatel-Lucent deal was met with skepticism by many when it was announced, with both companies holding relatively weak positions in the telecom gear space.
"It's been over a year now that Alcatel has been trying to sell investors on a cost-cutting story rather than a growth story," said 24/7 Wall St. analyst Douglas McIntyre. "What they want to see is growth from growing market share, and that's just not happening."
Winning market share becomes even more important when the overall market is slower, as it appears it will be for at least part of the coming year, McIntyre told the E-Commerce Times.
Lucent's wireless assets, including its CDMA (code division multiple access) next-generation wireless tools, were a key driver of the merger, but that market has not performed as hoped yet, he noted. The company wrote down approximately $2 billion in value from that division in the last quarter.
Alcatel can point to news from its competitors as evidence the problems are market-wide. Nokia Siemens Networks recently said it would cut 9,000 jobs in the face of a slowing market.
Alcatel-Lucent cut around 6,700 jobs in the fourth quarter, all part of the original restructuring plan put in place after the merger closed late in 2006.