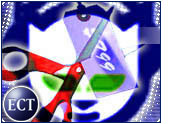 A publicly traded company that specializes in adult-content Web sites said it has bid to buy most of the assets of long-silent and bankrupt music-swapping site Napster.
Private Media Group (Nasdaq: PRVT), which is based in Barcelona, Spain, Thursday announced it has offered 1 million shares of its common stock in exchange for the Napster.com URL and the Napster trademark. Based on Thursday's closing price, such a deal would be worth about US$2.4 million.
The company, which has been in business for more than 30 years, is the first entity to express interest in Napster since a judge ruled the site could not be sold to Bertelsmann AG, the media conglomerate that temporarily rescued Napster last year. Bertelsmann had sought to pay $8 million for all of Napster's remaining assets.
Picture Sharing
Private said it would use Napster as the foundation for a peer-to-peer (P2P) environment that would "offer the tens of millions of adult consumers worldwide the opportunity to share adult content for free, as well as access top-quality adult content at a reasonable price."
Charles Prast, president and CEO of Private Media, noted that while Napster once had as many as 84 million users, more than 110 million people are believed to use the Web to access pornography and other adult content.
"Along with Hollywood and the recording industry, we have become increasingly concerned about the level of copyright infringement inherent in free peer-to-peer file swapping services," Prast said.
Controlling Access
Improving control of adult content through a system like Napster would enable the online porn industry to cut down on copyright infringement, Prast said, and also would help the industry prevent unauthorized access, such as viewing by minors.
"We feel that there has been an excess of spamming, credit card fraud, abuse of consumer data and price gouging among many online providers of adult content," Prast said. "We intend to use the strength of the Napster trademark to build a community for adults to share content provided by Private and our industry partners."
Private Media Group operates Private.com, which charges $30 per month for memberships, and several related sites. It also publishes magazines and produces adult videos. Earlier this year, the company announced it was in talks with wireless companies to begin providing content suitable for wireless phones and PDAs.
Good Riddance?
The Napster offer — the only one made public for any of the assets of the company, which is in Chapter 7 bankruptcy — may be a blessing for the music industry, Yankee Group analyst Michael Goodman told the E-Commerce Times.
"The industry has been so obsessed with Napster in the past, it may be better off if it [is] put to another use," he said. "They've been so busy fighting Napster, they're just now realizing they have to offer consumers what they want, which is the ability to download music."