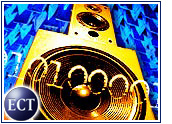 In an attempt to beef up its online music service, Pressplay has unveiled version 2.0, which, according to the company, will give users greater freedom in listening to, downloading and storing music.
The newly modified service now will let listeners stream audio, and gives them the opportunity to copy a larger number of songs. The company said that Pressplay 2.0 is being made available through its affiliates, MSN, Sony Musiclub, Yahoo!, MP3.com and Roxio.
Like most online music services sponsored by record labels, Pressplay has drawn criticism from listeners and industry critics, who point out that these services simply do not have the breadth and depth — or the innate hipness — of the once-popular, on-the-skids Napster.
Free Services
Yankee Group analyst Mike Goodman called Pressplay 2.0 "a big step in the right direction," telling the E-Commerce Times that it addresses "some of the major weaknesses" that existed in the service before. Goodman noted that while Pressplay users were able to burn CDs before, users were severely limited in the scope of what they could do.
"You could only burn two songs from any one artist," he said. "It was doomed to fail."
Critics said the services' limitations and subscription fees have discouraged online listeners from fully embracing these alternatives to Napster — once the favorite Web stop for music fans.
But the music industry balked at Napster's model, claiming that the free downloads — and the intense file-swapping among listeners — made the service a piracy venue of the first order.
The music companies hounded Napster and similar services, such as Morpheus, taking them to court and eventually shuttering Napster last summer. But following often contentious negotiations over the past year, Bertelsmann — a Napster investor and Big Five music label — agreed to buy the service's assets for US$8 million.
Alternative Music
Record companies have launched their own services in an effort to lure the listening audience and to profit from subscription fees. But their efforts, for the most part, have fallen flat. As a result, the services are casting about for ways to make their offerings more palatable to listeners.
Pressplay 2.0 offers subscribers unlimited streaming as well as unrestricted downloading from the service's 100,000-plus repertoire of songs.
The new iteration of the service also lets users burn songs onto CDs and transfer them to portable players, such as Sony's Net MD and other products that support Windows Media.
Pressplay CEO Michael Bebel said in a statement that customers indicated they "wanted more flexibility, permanence and portability options."
Pay to Play
Listeners can experiment with Pressplay services in a free trial, which allows unlimited streaming and downloading during a three-day period. Pressplay's "unlimited" service provides those features for $9.95 per month, while the "unlimited plus" service costs a significant $17.95 per month for streaming and 10 downloads monthly that can either be burned onto a CD or transferred to a portable player.
Listeners get a slight price break if they sign up for the service as part of the company's "annual plus" plan, which costs $179.40 annually, the equivalent of $14.95 per month.
PressPlay also lets users buy "portable download packs" — the right to download either 5, 10 or 20 tracks. Fees for the packs are $5.95 for a five-track pack, $9.95 for 10 and $18.95 for 20.
Consumer Choice
"Giving consumers choice is important, and portability is clearly key," said Goodman of the new service. Goodman believes that the next step is for the service to try to differentiate itself by offering enhanced features like album sleeves, editorial comments or unique tracks.
He also said that Pressplay should forge relationships with independent labels in the same way it has partnered with the major music companies. Independent labels represent some of the most popular artists.