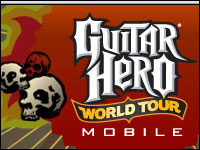 Back in the mid-2000s, "Guitar Hero" was a smash, and imitators such as "Rock Band" soon joined it in the gaming stratosphere. However, in a fourth-quarter earnings report released on Wednesday, Activision Blizzard pulled the plug on its once-innovative game, "due to continued declines in the music genre."
The company is also dropped plans for a planned "Guitar Hero" release in 2011 and axed agame in development: "True Crime: Hong Kong."
In addition to the cancellations, Activision said it will lay off 500 hundred employees and shift its focus to digital delivery.
Investors didn't like the news and sent its stock price south on Thursday.
On the Skids
Activision has been having some trouble recently. The company posted a US$223 million net loss in last year's fourth quarter.
Activision hopes concentrating on its recent smash successes will bring it back into the black. "World of Warcraft: Cataclysm" sold 4.7 million copies in its first five months. Its most recent "Call of Duty" game, "Black Ops," broke a video game record by surpassing $650 in retail sales in the first five days. To date, the game has had more than $1 billion in retail sales worldwide.
The company plans to stick with games that have online options that can attract players and hold them. The digital content model includes downloadable additions of new game content. The company's Beachhead division will handle a new digital platform, and it will deepen online and console integration of the "Call of Duty" series. The division is also working on a premium online addition to the "Call of Duty" universe.
Activision did not respond to the E-Commerce Times' request for comments by press time.
The Lonesome Death of a Former Hero
The market has started to move away from music games, so it's a convenient time for Activision to make a shift.
"'Guitar Hero' getting killed — you'd think that was one of their big titles," Rob Enderle, principal analyst at the Enderle Group, told the E-Commerce Times. "I was surprised by it. But people have moved more to the Web for their entertainment. I guess 'Guitar Hero' ran its course, and Activision has moved on to bigger and better things."
Among those other things are multiplayer games, which are currently strong.
"The big long-term message is that if you can do massive multplayer games, your users will hold on longer," said Enderle. "The other games can be dropped into iPad and other next-generation platforms. That gives them more long-term flexibility, and it's where their players are."
Game Industry Adapts Quickly
The game industry's progress is very fast. To stay alive, companies have to anticipate the next step and move quickly.
"In gaming, you have to stay new and fresh, and every product has a shelf life," Jim McGregor, chief technology strategist at In-Stat, told the E-Commerce Times.
"It's great to take a product as long and far as you can," he said, "but every company must eventually decide when to end the life of certain product lines."
For game companies, in particular, the next big thing should always be in the works.
"The important part is that you need to continually develop new products even as your existing ones are flying high," said McGregor. "If you fail to do this, these transitions can be very prolonged and painful."