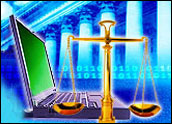 The American Civil Liberties Union on Monday presented opening arguments in federal district court in its longstanding challenge to an Internet censorship law that was signed by President Clinton in 1998 but has never been enforced.
At issue in the case known as "ACLU v. Gonzales" is the Child Online Protection Act (COPA), which would impose criminal sanctions, with penalties of up to US$50,000 per day and up to six months imprisonment, on sites featuring material judged "harmful to minors."
Free Speech Rights
The goal of the legislation is to protect children from online pornography, but the ACLU insists it violates First Amendment rights. Salon.com, Nerve.com and other plaintiffs the ACLU represents are concerned that COPA could be used to criminalize those who provide sexual health information, erotic literature and news photographs depicting naked prisoners.
In a trial that is expected to last four weeks, the ACLU will present evidence from a broad range of Internet parties, including online magazines, an online dictionary, rap artists, painters and video artists, providers of safer sex information and writers.
"The right to free speech is one of the core values of this country," said ACLU Senior Staff Attorney Chris Hansen, who is lead counsel on the case. "Congress does not have the right to censor information on the Internet. Americans have the right to participate in the global conversation that happens online every moment of every day."
An Eight-Year History
This not the first round in the Web sites vs. COPA battle.
Previously, a federal district court in Philadelphia and a federal appeals court found the online censorship law unconstitutional, and the Supreme Court upheld the ban on enforcement of the law in June 2004.
The Justices, however, also asked the Philadelphia court to determine whether there had been any changes in technology that would affect the constitutionality of the statute, such as whether commercially available blocking software was still as effective as the banned law in blocking material deemed "harmful to minors."
The ACLU claims that the law will not provide effective protection for parents who are concerned about their children having access to some materials. For example, the law cannot be enforced on the more than 50 percent of speech posted overseas, and it does not apply to non-commercial sites or to instant messaging, peer-to-peer file sharing, chat rooms or e-mail.
"Technology is forever evolving, as are the tools people use to communicate. Internet content filtering has evolved since 1999," Hansen added. "Unlike COPA, it can be used by parents who are concerned to block overseas sites, peer-to-peer speech, instant messages and other forms of speech. While not perfect, it protects children more effectively than COPA would. It can also be tailored to the age of the child and the values of the parent."
Rick Louis, spokesperson for the Association of Sites Advocating Child Protection, agreed with Hansen. Adult sites should clearly label their sites so filtering technology can find them more easily, he told the E-Commerce Times, but parents also have a role to play.
"There are many points at which parents can activate filtering technology," Louis said. "The basic computer operating system offers parental controls. The browsers offer parental controls. ISPs offer parental controls. You can get commercial filtering software like Net Nanny and Cybersitting. You can download toolbars from the Internet. It just doesn't stop. There's so many ways for parents to set up filtering in their homes. They just need to do it."
Free Speech Online
COPA represents Congress' second attempt to impose criminal and civil sanctions on the display of protected, non-obscene speech on the Internet, according to the ACLU. A first attempt, the Communications Decency Act of 1996, was declared unconstitutional by all nine justice of the Supreme Court in Reno v. ACLU.
"This case is about speech. It is not the role of the government to decide what people can see and use on the Internet. Those are personal decisions that should be made by individuals and their families," Hansen said.
The case will be heard by Senior Judge Lowell A. Reed, Jr. The trial will be held at the United States District Court House for the Eastern District of Pennsylvania in Philadelphia.