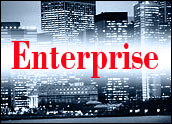 This has been a busy couple of months for Enterprise Mobility. 2010 isn't half over, and there are already significant changes in the Enterprise Mobility landscape:
HP to acquire Palm
SAP to acquire Sybase
McAfee to acquire Trust Digital
Antenna Software acquired Vaultus
BoxTone announces MSM, a super-EMM (enterprise mobility management) solution
A changing of the guard in Microsoft's mobile devices division
Apples' stock valuation exceeds that of Microsoft's (as of 5/26/10)
Business Context: Mobility Ubiquity
As reported in the May 2010 Aberdeen benchmark report, "Enterprise Mobility Management: Managing the Full Mobility Lifecycle," the top pressure impacting respondents was the increased use of mobile devices throughout the organization, in part due to senior executives "pushing" and employees "pulling" broader distribution of mobile capabilities to increase overall operational efficiency and improve workforce productivity
As it was observed in the December 2009 report, "Enterprise Mobile Strategies 2010: More Mobility, Same Budget," another top strategy was to make mobility an essential driver of internal process realignment. This is further substantiation of Aberdeen's hypothesis that mobility is maturing as an essential enterprise capability.
The Enterprise Mobile Application Space Comes Alive
At the beginning of April, Antenna Software acquired Vaultus Mobile Technologies for an undisclosed sum. Vaultus' focus on mobile consumer-facing software for Fortune 500 companies expands Antenna's enterprise-facing strategy to incorporate consumer-facing applications designed to scale to millions of users.
In the May 2010 study "Enterprise Mobility Management: Optimizing the Full Mobile Lifecycle," the top performers across multiple metrics (the "Best-in-Class") excelled in their development and deployment of enterprise mobile application software.
On May 12, SAP announced their intention to acquire Sybase for US$5.8 billion, emphasizing the importance of bringing their software to new markets. The acquisition will enable them to provide an unprecedented suite of capabilities for delivering mobilized enterprise software, via an entire ecosystem for application development, deployment, integration, and data synchronization. It's another signifier that enterprise mobile software is entering a more mature phase, and is an area targeted for further Aberdeen research in the second half of 2010.
HP Saves Palm From the Mobile Platform Wars
It seemed for a brief time that after fractioning and propagating from three to four mobile platforms to eight or nine, that finally a consolidation phase perhaps was under way. The brutal "platform wars" appeared ready to take their first victims. In February, Nokia and Intel tried to find strength in numbers by combining their Linux-based Maemo and Moblin platforms to form MeeGo. Meanwhile, as iPhone and Android enterprise adoption raged on, it appeared that Palm had suffered a fatal case of lost momentum and was on its last leg. Then on April 28, HP swooped in, and for a cool $1.2 billion grabbed Palm. The target: its state-of-the-art webOS as a crown jewel to serve as the future core of HP's "vertical stack" in smartphones, tablets, netbooks, printers, home entertainment systems and more.
The Best-in-Class are more accepting of the inevitable expansion in the number of mobile platforms, with three quarters of them already supporting more than one mobile platform. Their mobile platform consolidation hopes at least temporarily stymied, Industry Average and Laggard enterprise IT must come to terms with the challenges of a heterogeneous mobile platform reality, as described in "Enterprise Mobile Strategies 2010: More Mobility, Same Budget."
Changing of the Guard: APPL's Valuation Exceeds MSFT's
Microsoft has also suffered during the mobile platform wars. Apple, fueled by sequential successes in the mobile technology arena, has in several short years been transformed first by the iPod, then the iPhone, and now the iPad — from its near-deathbed to dominating consumer digital entertainment content.
It has only recently started beating Microsoft at its own game, making major inroads in enterprise mobility, while Microsoft appeared to be asleep at the wheel. On May 26, Apple's stock valuation exceeded that of Microsoft's for the first time, rendering Apple the second largest U.S. corporation, after Exxon.
EMM Evolves Toward IT Service Management
On May 24, McAfee announced its intention to acquire Trust Digital, an EMM provider whose strengths in securing new mobile platforms such as iPhone and Android complement McAfee's core competencies in security technologies. This reinforces the increasing importance of end-to-end security strategies for mobile infrastructure, in order for it to come up to parity with the rest of IT.
On May 25, BoxTone revealed a strategy that defined a new term of art for EMM: its new mobile service management (MSM) offering was a "manager of managers," a super-EMM that sits on top of islands of mobility management functionality, integrating them within a comprehensive IT management infrastructure. BoxTone announced MSM for for Good Technology, Microsoft ActiveSync, RIM BlackBerry, and IBM Lotus Notes Traveler.
This is another testament to the value of mobility as core IT infrastructure, a move to consolidate mobility initiatives under the watchful and process-oriented eye of IT. Best-in-Class organizations have taken the lead in integrating their EMM efforts under IT service management (ITSM) principles, part of the global movement toward IT practice standardization.
Some Observations
SAP's near-$6 billion valuation of Sybase and the other major industry moves described here have brought the attention of investors and the financial community to the significant, unrealized opportunity within the enterprise mobility marketplace. However recent the attention, the sector is far from new; it has been active for well over a decade, and it has spent the intervening years developing a more standardized, IT-service-management-oriented infrastructure.
During that long process, it has matured to the point where it is increasingly viewed by enterprises as a necessity to remain competitive and responsive in the global marketplace. The recent seismic changes in the enterprise mobility landscape are clear indicators that mobility is finally evolving from enterprise periphery to core IT.
---
Andrew Borg
is a senior research analyst for wireless and mobility at
Aberdeen Group
.