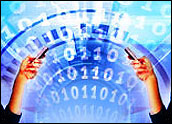 As organizations enter 2010, it is no longer sufficient to simply provide mobile devices to employees and expect concrete business value to somehow magically appear.
With the emergence of new mobile platforms, the infiltration of individual-liable devices into the workplace and the rapid growth of mobile applications, IT and operations departments are under intense pressure to support the business benefits of enterprise mobility without threatening the security of enterprise data and infrastructure.
Top Pressures
Over the past year, the top pressures driving organizations to adopt and support enterprise mobility have changed markedly. In its December 2009 benchmark report "Enterprise Mobile Strategies 2010: More Mobility, Same Budget," Aberdeen Group found that in contrast with its March 2009 report "More Mobility – Less Budget: Enterprise Strategies in the Current Economic Downturn" — where the drive to increase activity was the top pressure — in the December study, the economic pressure to increase productivity placed a distant third compared with the challenges of propagating mobile device use throughout the organization and the drive for increased operational efficiency.
This change over the prior nine months is a clear indicator that mobility is maturing from its role as a vague general productivity tool to a core driver of operational efficiency and streamlined business processes, an essential element of a well-integrated IT infrastructure strategy.
The study also found that IT organizations were struggling with the influx of new mobile platforms entering the organization, as well as the proliferation of employee-owned devices being used for business purposes.
Best-in-Class Strategies
Aberdeen used three key performance criteria to distinguish Best-in-Class companies (the top 20 percent of respondents) from Industry Average (the middle 50 percent) and Laggards (the bottom 30 percent):
The percentage of employees with mobile access — 2X the Industry Average and over 3X the Laggards
The increase in mobile users over the prior 12 months — 88 percent more than Industry Average, and over 2X the Laggards
The mobility initiative's Total Cost of Ownership (TCO) per mobile employee — 41 percent less than Industry Average, 72 percent less than Laggards
In short, Best-in-Class companies are defined as those that had more mobile access, greater increases in mobile users, and significantly lower TCO as compared to all other companies. Although controlling the flood of mobile devices and platforms was the top strategy for all respondents, the approaches differed between Best-in-Class, Industry Average and Laggard organizations.
In particular, organizations with high levels of adoption and low mobility support costs (this study's Best-in-Class) actually made their mobility initiative a core driver of internal process change and workflow redesign, which enabled them to improve the timeliness of information delivery. This was a core message and strategy for companies that gained the greatest value from their enterprise mobility initiatives in 2009. In contrast, organizations with lesser performance were trying to hold back the influx of mobile devices through restrictive measures that reduced the business value of their enterprise mobility investment, without delivering the operational efficiencies that the Best-in-Class have captured.
So, how did the Best-in-Class companies end up supporting their enterprise mobility initiatives? Where do all other companies need help to achieve the business value and company-wide adoption that the Best-in-Class achieved? There are many areas, ranging from professional services to technological support to outsourced managed services, where a majority of companies still need help to fully achieve the value of enterprise mobility.
Corporate Process Capabilities
Best-in-Class organizations show an 18 percent greater adoption than Laggards in establishing policies and procedures for the mobile devices under their control, with an eye toward protecting sensitive data, maintaining security, and enforcing device and software compliance policies.
It is important to note that the enforcement of compliance policies is not merely a reactive measure to compliance lapses or incidents. Proper policy enforcement is a highly proactive process, starting with the procurement of mobile devices and continuing throughout the entire lifecycle of the device.
Organizational Decisions and Support
The trend among top performing organizations has been a drive toward device compliance to IT requirements, as contrasted with the legacy notion of device standardization and strict adherence to company-provided devices.
Best-in-Class companies, in addition to being more likely to provide the baseline foundation of IT support for mobile devices, are the ones most able to adopt this attitude of flexibility and customization and turn the potential chaos of the expanding mobile market into increased operational efficiency.
The Best-in-Class companies, instead of spending money and effort in an attempt to limit their mobile initiatives, are more willing than their Laggard counterparts to evaluate and embrace new mobile systems as products are brought to market. They are thus more able to realize the potential cost reduction of incorporating employee-owned devices into their business. In addition, by developing in-house mobile software development capabilities, they are able to customize mobile device functionality to more effectively impact specific business objectives.
Understanding the Enterprise Mobility Environment
The Best-in-Class organization understands that it is not a single entity with perfect control, but a composite group made up of many different individuals and mobile assets, constantly responding to an ever-changing environment. In addition to having well thought-out and carefully planned guidelines, the organization must be willing to evolve those guidelines and adapt to changes in real time. Best-in-Class companies leverage business intelligence as to the state of their mobile infrastructure in order to improve their performance in several key areas.
They show a high degree of success in areas such as maintaining an inventory of all mobile devices with network access. In addition, Best-in-Class companies are more than twice as likely to inventory their increasing quantity of individual-liable devices, establishing control over and assimilating endpoints that previously had not been part of the organization's purview.
Technological Enablers to Manage Enterprise Mobility
There are a variety of technology enablers that can be instrumental in accelerating top performance achievement and business success. Current use of these key technologies by Best-in-Class organizations is shown in the figure below, plotted against their relative use by the Industry Average and Laggards.
The four quadrants represent different adoption rates and the variations between Best-in-Class and Laggard companies, grouping the enablers into four distinct categories. Moving clockwise from the lower right-hand quadrant, we see:
Baseline Enablers:The lower right-hand quadrant indicates current use by a high percentage of both Best-in-Class and Laggard organizations — in other words, basic technologies that a majority of this market space is using.
Emerging Technologies: The lower left-hand quadrant indicates low adoption rates by both Best-in-Class and Laggard companies, with little difference between them. These are new solutions that haven't yet seen widespread use, or their business impact is still unknown.
Early Adoption: The upper left-hand quadrant contains enablers with low adoption rates by all companies, but with Best-in-Class organizations leading the way significantly over all others. These are the technologies that a few Best-in-Class companies are using to enhance their businesses but which have not reached majority adoption as of yet.
Differentiators: The upper right-hand quadrant shows the enablers that a high percentage of Best-in-Class companies are using to drive success but most Laggards have yet to adopt. Enablers in this area are often the largest difference between Best-in-Class and Laggards and can have the largest correlation to success in this area.
Recommendations for Supporting Customers and End Users
One of the greatest challenges in maintaining the performance level of a Best-in-Class enterprise mobility initiative is in managing the essential aspects of such an advanced technology ecosystem, which is rapidly expanding, changing and evolving. The hardware, firmware, software, use cases and management capabilities relevant now were largely unimagined three years ago. Likewise, the mobile strategies that work today will likely be irrelevant in three years as new companies, device form factors, and end-user behaviors come into place.
Currently, the top drivers for a well-integrated enterprise mobility strategy are the need to manage multi-platform environments, the invasion of individual-liable devices in the workplace, the GRC and security issues for mobile data, and the new mobile application environments that have recently developed. To meet these challenges, your customers need solutions such as mobile device management and OTA (over the air) software and firmware update capabilities. They need to understand how important mobile data security can be to the financial health of the organization.
Perhaps most importantly, organizations need to understand that enterprise mobility is no longer simply a personal decision that can be individually determined by each employee in the company. Coherent enterprise mobility deployments require broad compliance of individuals, assets, and devices to corporate standards, as well as the mobility management tools for enforcement.
This does not mean that employees must standardize on one device or that mobility policies should lock down every non-standard behavior. However, employees must understand that the decision to choose a mobile device is no longer simply about aesthetics, incremental improvement, or even acquiring the latest and greatest feature set.
Each new device acquisition affects an entire ecosystem of network endpoints, software applications, support staff, and other end-users dedicated to making the company more efficient and collaborative. It is in this context that companies must evolve their mobile strategies, whether it incorporates one platform or six, individual-liable or corporate-owned devices, in-house or outsourced application development, dedicated support staff or self-service Web portal, and every other mobile decision that must be made along the way. As they face these challenges, they will face a number of support, training, and management challenges that provide opportunities to discuss customer needs.
By making these decisions within the context of delivering tangible business value, increasing top-line growth, and improving operational efficiency — rather than simply making mobility decisions based on the old paradigm of fully centralized, fully homogeneous, and draconian IT and procurement workflows — enterprise mobility can take its rightful place as core, business-critical IT infrastructure.
---
Andrew Borg
is a senior research analyst for wireless and mobility at the Aberdeen Group.
Gaurav Patil
is a research associate with Aberdeen's communications practice.