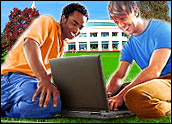 Aberdeen's May 2009 report "Wireless LAN 2009: From Network of Convenience to Critical Infrastructure" described the progress that the Best-in-Class had made from transforming their WLAN from a casual network overlay to that of core IT infrastructure.
It also reported that Best-in-Class organizations more than doubled the percentage of their facilities covered by their WLAN (Figure 1). In that study, a key challenge emerged: How to scale the number of sites and locations covered, increase performance, and yet contain the infrastructure costs?
The March 2010 study Multi-Site and Campus-Area Wireless LANs: Advantages of the Centralized Approach looked specifically at the challenges of scaling campus-area WLANs to multiple sites and locations, and the solutions that have evolved to reduce the cost and complexity of these multi-site configurations. It provides valuable lessons relevant to higher education.
In the study, the Best-in-Class improved their end-to-end network performance by 134 percent, their ability to comply with privacy and security regulations by 76 percent, and their successful blockage of attempted security breaches by 29 percent, all accomplished while reducing their multi-location WLAN budget as a percentage of total IT spend.
Most significantly, they were able to achieve these significant performance advantages at a lower Total Cost of Ownership (TCO) per location, as compared to all other respondents.
Pressures in Common
Their powerful multi-site management solutions and distributed management architectures leverage economies of scale — whereby each new site added under centralized management reduces the average cost per site of the network — and provides a platform to eventually unite wired and wireless networks under a single system management interface.
This Research Brief documents the mix of technologies and services that the Best-in-Class leverage to achieve optimal performance and ultimately lower WLAN TCO across campus, on a per-site basis.
The top pressures for all respondents regarding the integration of multi-location campus WLANs are a direct result of a fundamental shift in mobility's role in information access. These pressures create a demand for full campus in-building and outdoor wireless coverage, as well as ever-increasing demands for faster performance (Figure 2).
Table 1 revisits the top pressures in Figure 2 from specifically a higher education sector perspective. If we focus on the top two pressures for all respondents and higher education, we see that an increase in demand for WLAN coverage at all sites along with improving WLAN performance is seen as a top pressure among both groups. However, higher education shows a significantly larger percentage of respondents who chose the coverage issue as a top pressure, corresponding to strong student demand for constant connectivity throughout every corner of the campus. Within the ivy walls, the student is the ultimate customer.
All RespondentsHigher EducationIncreasing demand for WLAN coverage at all locations43 percent60 percentNeed to increase staff productivity37 percent28 percentIncreasing demand for improved WLAN performance26 percent 36 percentDecrease telecom services costs18 percent8 percentUnprotected PII, HIPAA or sensitive data12 percent20 percent
Table 1: Top Pressures for the Higher Education Sector
Convenience and Security
Higher Education respondents selected the same pressure of increased demand for improved WLAN performance for a similar reason: Students who are Web surfing, downloading videos, playing online games and studying are used to uncompromised bandwidth at home and carry that expectation forward as a demand at school.
In addition, the latest advances in education technology incorporate mobile access to distance learning, online collaboration and innovative research, all of which require maximum network performance. Security of academic records and private student contact and financial information is also a concern, raising its importance as compared to all other study respondents.
Discover effective strategies to gain the benefits and overcome the challenges of wireless technology in higher education. Learn how you can achieve a seamlessly integrated wired/wireless campus while maintaining the security of intrusion detection across wired/wireless networks by interacting in Aberdeen's newest microsite dedicated to higher education wireless LAN.
---
Andrew Borg
is a senior research analyst for wireless and mobility at
Aberdeen Group
.
Gaurav Patil
is a research associate at Aberdeen.
Max Gladstone
is a research associate in business intelligence at Aberdeen.