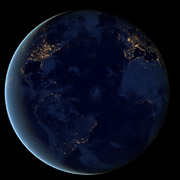 Turn-by-turn directions have become a common technological enhancement to the automotive world thanks to a set of satellites dedicated to the task.
To date, these radio positioning signals have been supplied to consumers primarily by the U.S. military through a satellite constellation called "GPS," or Global Positioning System. Essentially, receivers on the ground — or in cars — interpret the signals and tell you roughly where you are.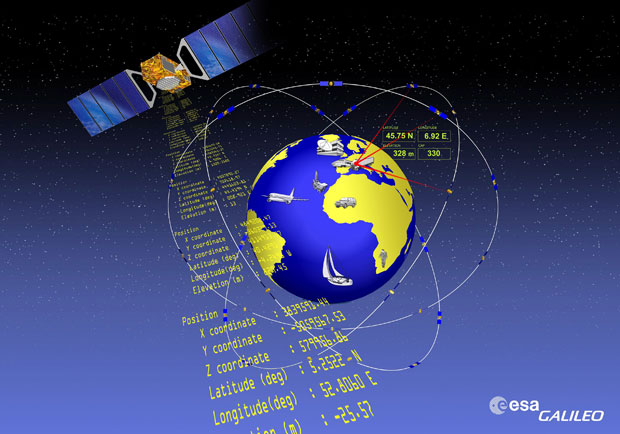 Europe's Galileo global satellite navigation system is expected to open up a variety of business opportunities.
Big changes are in the air, however, as a result of new, more accurate systems on the way. One example: geofencing, a highly targeted form of tight, perimeter-based locating.
Meet Galileo
A form of geofencing using the U.S. GPS is already used to monitor stolen vehicles, trucks and delivery drivers, among other things.
GPS isn't particularly accurate, though. With more accuracy, geofencing could be used to create a zone around a store or school, for example — or even a particular vending machine, in the world of commercial applications.
One of the new systems offering fresh potential in this area is Europe's upcoming Global Satellite Navigation System, or GNSS, known as Galileo.
Early Success
Galileo is similar to the United States' GPS — the makers of which, incidentally, are also promising to bring a more accurate system to market down the road — and the Russian GLONASS constellations as well.
Galileo is scheduled to reach full 30-satellite capacity by the end of this decade, assuming the development money doesn't run out before then.
The good news is that tests completed in March with the four currently orbiting Galileo satellites succeeded in determining a ground location. So, the system does appear to work — good thing, too, since some estimates place Galileo's costs at 5.4 billion euros (roughly US$7.23 billion) by the time it's finished.
'Global Applications'
Where Galileo gets particularly interesting for us in the e-commerce world is that, buried deep in the European Space Agency's promotional descriptions are some telling statements. For example, Galileo will offer a commercial service that will "allow global high-end and innovative applications" with accuracy down to a few centimeters.
For comparison, GPS maker Garmin says its latest GPS receivers are accurate to within 3 to 5 meters.
Second, despite being a government project, Galileo will be under civilian control — not government control the way GPS is. It will be fully open to commercial applications.
Then, too, there's the authentication feature Galileo will include — an accurately timed, trusted location factor.
The Galileo Commercial Service demonstrator will begin its proof of concept in 2014, with early service reckoned to start in 2016.
Sensitive Transactions Become Possible
Why do we care about all this? Simple: because of Geofencing.
Geofencing is currently used in mobile e-commerce to deliver ads and promotions based on a geographical region of interest. The GPS is used to define proximity so that an advertiser can know when you're in the area.
Now add Galileo's authentication to this mix, plus the microlocations obtainable with Galileo, and you're in a different ballpark — almost literally. Sensitive transactions become possible, along with tracking to the millimeter — when you enter a building, go to the zoo or choose a concert seat. Turnstiles and the cost involved become redundant, for example.
Vast amounts of valuable marketing data could conceivably also be gained by tracking user movements down to the centimeter.
Current location-based access control and payments solutions that use a GPS signal are authenticated through proprietary algorithms, GNSS expert Monica Pesce, who is associate partner at Valdani Vicari & Associati, told the E-Commerce Times.
Improved Security
By virtue of its ability to enable transaction security and access control improvements, in fact, Galileo's authentication feature will ultimately be perceived by industries such as banking to be a source of added value, Pesce predicts.
"For example, GNSS-based positioning and accurate timing could be integrated in the encryption algorithms to improve the security of the payment process," she explained.
Location-based billing using existing GPS is already in use in limited areas including toll-road billing, and it's being considered for parking as well. However, one of the big problems has been the availability of equipment that's small enough and power-friendly enough to be practical.
The technology on the ground — the device in your pocket, in other words — is a limiting factor. If you've ever tried to use your smartphone's GPS chip for more than a few hours, you'll know it kills the battery, even with the latest phones. Current vehicle geofencing trackers, meanwhile, are large, permanently mounted boxes.
New chips will provide portability.
'This Previously Wasn't Possible'
Broadcom, for example, recently introduced a battery-saving GNSS smartphone location chip with Geofence capabilities.
The company's BCM47521 chip lets an application receive an alert when a user enters or exits a virtual perimeter, and uses the current GPS, GLONASS, QZSS and SBAS constellations — all at the same time.
"What is unique about Broadcom's technology is that it's able to monitor the user's location as a background task, consuming less power," Susan Vander May, a spokesperson for Broadcom's Mobile and Wireless Group told the E-Commerce Times.
"This previously wasn't possible, as the process of continually monitoring for a geofence would rapidly drain a mobile device's battery," she added.
Near Field Communications radio standards can be used for the secure payment element, Vander May explained, and the more widespread adoption of NFC for mobile payments will also generally help drive adoption of location-based payments.
"Geofencing creates the opportunities for new business models, allowing the use of mobile tools and services to not only interact with loyal customers but also reach potentially new customers when they come into a geographic proximity," she explained. "So it does open the doors to some interesting new applications."
'Security and Privacy Will Be Crucial'
Qualcomm's networking and connectivity subsidiary Qualcomm Atheros is also working on positioning. Its IZat location platform is geared towards precise indoor positioning for public places and provides 3- to 5-meter positioning inside.
GNSS will help enable location-based payments, but it's not everything, Leslie Presutti, senior director of product management at Qualcomm Atheros, told the E-Commerce Times.
"There will certainly be other augmentation technologies that will help to increase the propagation of this in the market," Presutti explained. "Security and privacy will also be crucial to acceptance."
Indeed, "today, the tested 'indoor' services need to rely on antennas installed outside the target buildings to reproduce the GNSS signal," Pesce noted. "This requirement causes additional costs, challenging the economic viability of GNSS-based positioning as a means to reinforce the security of access and transactions."