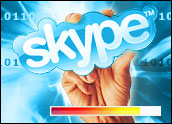 Facebook and Google are separately considering acquisition or partnership deals with Skype, according to sources speaking to Reuters. Facebook chief Mark Zuckerberg has been in discussions concerning a possible purchase, one of the sources indicated, a deal that could be worth between US$3 billion and $4 billion.
A Skype IPO is still considered a possibility during the second half of 2011, Reuters reported. The IPO would be expected to raise around $1 billion.
The future for Skype looks very promising, since many devices now come equipped with on-board, forward-facing cameras that enable Skype-style service. In 2010's second quarter, the company had about 124 million connected users per month.
Skype, founded in 2003, was purchased by eBay in 2005 for $3.1 billion. Many were baffled by the purchase. In 2009, eBay sold a majority of the company to an investor group while retaining about a third of the company's stock.
Last August, Skype filed a registration statement to go public. October's appointment of a new CEO, Tony Bates, bumped the IPO to late 2011.
A Nice Catch
A Skype alliance with Facebook could offer the social network site the nifty additional dimension of video connectivity. Given the price and availability of chat-ready cameras, the tie-up could open a sticky new world of services for the site's gigantic customer base.
"Facebook buying Skype would have to be looked at from an end-user perspective and a business perspective," said Azita Arvani, principal of the Arvani Group.
"From an end-user perspective, it might make sense to offer the user an aggregated way of reaching out to friends, family and fans," she told the E-Commerce Times. The user can check out wall postings, poke and play Farmville, and when the urge for deeper voice or video interaction hits, there would be a friendly FB Skype button — all the while keeping the user inside the Facebook complex. Especially in the mobile space, the Skype/Qik Video Connect can offer valuable video calling features across mobile phones."
Many customers turn to Skype for its free video chat functionality. To make a Skype buy worthwhile, Facebook would have to figure out how to turn the free service into a cash register.
"From a business perspective, Skype is still struggling to turn its valuable service into a money-making machine," said Arvani. "For a company with 663 million registered users, fewer than 9 million pay for the service. If Facebook were to buy Skype, they would have to find ways to turn their user value synergies into a revenue model."
For Google, a Skype purchase could give the company instant street cred in the social networking market. It could be a tidy fit.
"Google and Skype overlap in user functionality. Google has Google Voice and Google Talk," said Arvani. "A Skype acquisition would bring Google access to 663 million users. And, that could be a quick way for Google to grow its social networking reach."
Lusting for Face-to-Face Connectivity
Both Facebook and Google seem to be taking serious aim to secure a deal could help it upgrade its services. Facebook could expand its features and become further integrated into smartphones. Google could gain more users, eliminate a competitor for Google Voice, and stifle Facebook's chances of expanding its capabilities.
"I never got why eBay wanted Skype, but Facebook is in the communications business and Google has Facebook lust," Rob Enderle, principal analyst at the Enderle Group, told the E-Commerce Times.
It all comes down to deeper connectivity. Facebook and Google are both looking for ways to sink their consumer connectivity hooks in deeper.
"In addition, with Gmail, Google TV and Android, Google is effectively in the communications business — and Skype is the leading consumer VoIP provider. The two companies come at this a bit differently, but they both see Skype as a critical part of expanding their communications capabilities," said Enderle.
"If Facebook were to get Skype, and if Google tries and fails, it would further paint Google as a has-been — much as Google has made Microsoft look like a has-been," he pointed out.
Skype could get supercharged by an acquisition. A combination with either company could mean some progressive changes.
"I would expect it likely that Microsoft will enter this fight in support of Facebook, which prevents Google from what otherwise would be an easy win," said Enderle. "Regardless of who gets this property, and neither company is perfect, it should increase dramatically the funding underneath Skype and should accelerate the move from analog voice to digital voice/video communication with both cost and performance benefits."