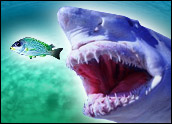 In a move to beef up its security for Voice over Internet Protocol (VoIP) offerings, 3Com today announced it has agreed to acquire publicly held TippingPoint Technologies, a network security products maker, for about US$430 million.
3Com will pay $47 cash per outstanding share of TippingPoint stock, which represents a 13 percent premium over the closing price on Friday. The $430 million purchase price includes acquisition costs and assumed options.
The acquisition is expected to close in the third quarter of 3Com's fiscal 2005, pending approval by regulatory authorities and TippingPoint stockholders.
The Austin, Texas-based TippingPoint employs about 125 people.
VoIP at the Tipping Point?
"The integration of TippingPoint into 3Com enhances our ability to deliver secure, converged networks to the enterprise market," 3Com CEO Bruce Claflin said.
"Networking and security technologies are merging," said TippingPoint CEO Kip McClanahan, who will assume the role of division president post-merger.
"As the market embraces the benefits of a converged networking infrastructure, there must be a shift from general purpose to purpose-built security solutions that are tightly integrated, performing at line speed and in real time," McClanahan said.
The acquisition comes just as the VoIP market is preparing to reach its tipping point. According to Jupiter Research, VoIP service will grow to about 400,000 U.S. households by the end of 2001 and reach more than 12 million households by 2009. That represents a 10 percent household penetration in the U.S.
Definitive Move
Jason Wright, Frost & Sullivan industry analyst for security technologies, told the E-Commerce Times that he's "all thumbs up" on this acquisition.
"3Com is serious about getting into the security space," Wright said. "A lot of companies talk about what they are going to do. But this is an example of someone putting their money where their mouth is to make a bold and definitive move."
Wright said TippingPoint has staked a claim in a market that was ripe for change and is one of the shining stars, along with McAfee and Netscreen, in the intrusion-prevention space.
"I'm a big fan of TippingPoint as a company and a technology," Wright said. "The company gained a lot of market share away from companies like Cisco and ISS last year. This is a good move for 3Com."