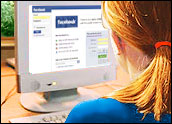 With an increasing number of individuals engaging in social networking, it is not surprising that Web sites such as Facebook, Twitter and MySpace have started to play a prominent role in litigation in the United States and Canada, at times affecting outcomes.
Increasingly, information contained in Facebook profiles has been used as evidence in litigation. There have been many cases similar to one that recently occurred in Newfoundland, Canada: A plaintiff filed a lawsuit after suffering whiplash as a result of two car accidents. In his statement of claim, the plaintiff stated that the injuries negatively impacted his social life. However, the defendant was able to rebut this claim by producing evidence from the plaintiff's Facebook profile that demonstrated the plaintiff's active social life.
In another personal injury case, the question before the court was whether the plaintiff's injuries constituted a "permanent serious impairment of an important physical, mental or psychological function."
The plaintiff, in support of her argument that her injuries met this threshold, provided evidence that she had scarring on her face and shoulder that caused her embarrassment and impaired her enjoyment of life. However, the judge rejected this argument, giving weight to the fact that the plaintiff had posted pictures of herself on Facebook and finding that the scarring "does not appear to have interfered with her normal, everyday life in any way."
Fair Trial Trumps Privacy
The above examples are only a few of a growing number of cases that have faltered as a result of information and pictures posted on Facebook.
The fact that an individual may have restricted viewing of his/her Facebook profile to preapproved individuals is irrelevant, as courts have generally held that a party who maintains a private or limited-access Facebook profile stands in the same position as one who sets up a publicly available profile. In both cases, Facebook postings that relate to any matter at issue in an action must be identified and produced for examination.
It has also been held that a plaintiff must submit to cross-examination from defense lawyers with regard to postings made by the plaintiff on his/her Facebook account, regardless of whether the content was available to the public or not.
In reaching this conclusion, an Ontario Superior Court Justice stated that "to permit a party claiming very substantial damages for loss of enjoyment of life to hide behind self-set privacy controls on a Web site, the primary purpose of which is to enable people to share information about how they lead their social lives, risks depriving the opposite party of access to material that may be relevant to ensuring a fair trial."
Brief Window of Opportunity
However, courts have been clear that the mere proof of the existence of a Facebook profile does not entitle a party to gain access to all materials placed on that site.
The information being sought must be relevant, as demonstrated in a recent case in which a judge dismissed a defendant's application for disclosure of the current content contained in the plaintiffs' Facebook and MySpace pages. The vast majority of the material sought was authored by third parties who were not involved in the matter in dispute, and the information was generally irrelevant to the litigation.
It is through the discovery process that parties determine what profile content may be relevant to the litigation. Thus, if a defendant is aware of any plaintiff Facebook postings that might be of interest to the litigation, then he/she must raise questions during the discovery process or lose the right to examine the postings. Indeed, courts will not tolerate attempts to delay an impending trial by seeking a plaintiff's Facebook pages regardless of the stage of litigation, long after the discovery process is over.
These recent cases highlight how information posted on Facebook or other social networking sites can impact litigation. Even innocent postings and pictures published on Facebook can be taken out of context. Thus, individuals should be careful about what they post on such Web sites.
---
Daisy Yu
is a business and technology lawyer at
Heydary Hamilton
. Her practice is focused on commercial transactions, IT matters, trademarks and franchising law.
---